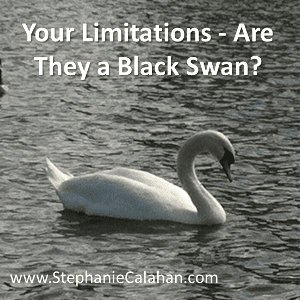 Humor me for a moment today.
Please close your eyes and envision a swan.
Now, take a few moments and describe that swan.
What words did you use?
White, graceful, bird, clean, dirty, ugly duckling, etc.
Long ago, in Europe, everyone believed that all swans were white.  Why was that?
It was because all anyone had ever seen were swans that were white. Everyone thought that for YEARS. That was, until Australia was found as well as the black swan.
So what does this have to do with your business? Keep reading to find out!
You see, we all make assumptions on our limitations.
Europeans limited the color they believed swans could be for years and were then found wrong. So what in your life are you limiting that you could stretch more?
Our Vision for Ourselves
Some of us limit the goals we set for ourselves. We assume that we can only go to a certain level and do not challenge our assumptions. Do you do that? I have frequently heard people tell me that it is "hopeless" or "impossible." They say this in reference to their offices or other spaces.
Delegation
Are there things that you could be asking someone else to do? Do you tell yourself that no one can do it better than you? How about – I don't have time to teach someone. What opportunities are you not seeing because you don't believe in your "black swan?"
Space
"Seeing space" is an ability that only a few have. We often complain that we don't have enough space to do what we would like to do. Is that really the case? Next time you find yourself saying that, consider the vertical space available.
Your Turn
"Black swans" are everywhere – we just need to be able to be open enough to SEE them. What swans will you discover today?
To your success!