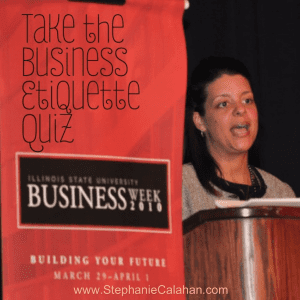 Today I received a really nice note from one of my contacts, Amy Humphreys, at Illinois State University.  Last month I presented and emceed at a College of Business event on business etiquette.  It was fantastic working with the students. The room was filled with college students and area employers.  What I found very interesting is that both the students and employers were a bit nervous about their etiquette. Social and business etiquette can be tricky and making the right moves can make a big difference.  Etiquette is largely about being courteous and thoughtful to the people around you.  So today, I'll share some of what I shared at that banquet in a short quiz to see what you know or don't know about business etiquette.
The Business Etiquette Quiz
1 — The following is a proper introduction:  "Ms. Boss, I'd like you to meet our client, Mr. Garcia."
A – True B – False
2 — You're talking with a group of four people.  Do you make eye contact with:
A – Just the person to whom you're speaking at the moment? B – Each of the four, moving your eye contact from one to another?
3 — The person who does the inviting is considered the host and pays for the lunch.
A – True B – False
4 — You got side tracked in a project and have forgotten lunch with a colleague/business associate.  You feel terrible and know he's furious.  Do you:
A – Write a letter of apology? B – Send flowers? C – Keep quiet and hope he forgets about it? D – Call and set up anther appointment? E – Email and set up another appointment?
5 — During a meeting it's OK to leave your cell phone on if you're expecting a call.
A – True B – False
6 — When you are out of the office, it is important to change your voice mail message.
A – True B – False
7 — When you are using a speaker phone it is a good idea to let the person on the other end know who is on the line before starting your conversation.
A – True B – False
8 — You are in a group of people and someone forgets to introduce you.  Do you:
A – Ignore it and move on with the conversation without saying anything. B – Introduce yourself – Say something like: "My name is Stephanie; I don't think we've met."  Or, "I'm Stephanie, Marlon's wife, and you are?" C – Stop the conversation and ask that someone introduce you.
9 — It is appropriate to tell a business associate that their zipper is open.
A – True B – False
Answers to the Business Etiquette Quiz 1 — B – FALSE — Introduce the person of the greatest authority or importance first.  Gender or age is not the deciding factor.  When a client is involved, mention him or her fist.  In addition, a proper introduction will include first and last names. 2 — B — It is important to make eye contact and engage everyone in the group.  This not only allows everyone to feel like they are welcome in the conversation, but also ensures that you get a well-rounded set of perspectives in the conversation. 3 — A – True — If you do the inviting, it's up to you to pay, unless you have a standing understanding with a friend about alternating payments or splitting the bill.  Find out your company's policy before inviting clients to lunch.  Make sure the restaurant is within your budget! 4 — D or E — Depending on the communication preferences of the person you were to meet, either call or email and set up another appointment.  Be sure to remember to apologize for your error.  Imagine how you would feel if it was you! 5 — B – FALSE — Our world has become a bit less courteous with the availability of the cell phone.  We often answer the phone and ignore others without giving it a second thought.  It's rude to your fellow attendees and any speakers if your cell phone rings during a meeting.  If you are attending a meeting, it is important for you to be able to focus your attention on the hear and now.  When you take a call, it diverts the attention of everyone and ruins the effectiveness of the meeting.  Unfortunately, this often means that the issues that need resolving don't get resolved and a 2nd meeting needs to be scheduled!  Save yourself and others time.  Turn it off or adjust it to vibrate mode and only take the call if it is truly a priority. 6 — A – TRUE — Record a greeting that says something like: "I'm out of the office today, April 12.  If you need help, please contact _____ at extension 12."  or say: "I'm out today, April 12, but will be back on _____."  There was a time that if we called someone and did not get them, we were not too frazzled by it.  However, instant access has become the norm in most cultures and when someone calls you, they expect to hear your voice right away.  By being specific on your voice mail you are saving the person calling you time.  They know you will not be returning their call and will not try to call you multiple times.  This also sets good expectations for the other person and they will not be frustrated if they don't hear back from you immediately and they may not try to catch you at your other 3 phone numbers!  This gives you fewer voice mails to manage. 7 — A – True — It is always a good idea to let the other person know who is on the line if you are using a speaker phone.  This is true even if you are the only one on the line and are using the speaker phone so that you can take notes.  Speaker phones have a distinctive background sound and the person on the other end will normally pick up on the fact that you are using one.  If they are distracted wondering who else is listening in, they will not be as focused on the conversation at hand. 8 — B – Introduce Yourself — When you are in a business meeting (or any other situation really), you want to make sure that you know who you are talking to and that they know who you are!  If you don't, the conversation could be guarded because the participants are not fully aware of who they are talking to.  Introducing yourself with grace, while not making someone feel bad for not introducing you, is the best choice. 9 — A – True — Think about what you would prefer in this situation.  If you do not tell them, they will be embarrassed once they realize their zipper has been open.  The best bet is to take that person aside and quietly advise him or her to zip up.  This rule also applies to food or lipstick on teeth and other potentially embarrassing situations. Why Care? There are many unwritten and written rules and guidelines for etiquette, and it is a good idea as a business person to learn them. When you do not feel respected, do you pay more attention or less attention to what is happening?  Likely, you pay less attention.  No matter how professional someone is, if they are feeling slighted, it is natural for them to lose focus or interest in the conversation.  That kills productivity. Closing Thoughts You are bound to make a mistake or two, but you can minimize them, recover quickly, and avoid causing a bad impression by adhering to the basic rules of etiquette and being generally considerate of others.  When in doubt, stick to the basics.
Be courteous and thoughtful to the people around you
Stick to your convictions as diplomatically as possible
Address conflict as situation-related rather than person-related
Apologize when you step on toes
So, how did you do? How did you do with your knowledge or practices of etiquette?  Have any tips or other thoughts to share?  I know my readers would love to hear your perspective.  Please comment below. If you liked what you read here, or know someone that would benefit from this information, please share it!  We have sharing buttons below to make it easy for you. To your success!

Live Fully -- Love Openly -- Laugh Often -- Leverage Your Brilliance -- Connect Authentically -- Get Your Message Out -- Serve with Impact -- Prosper Everyday

PS. If you are curious, here is the note I received from Amy – So sweet! Stephanie – I wanted to thank you again for taking time to join us and share your expertise during the Business Week Etiquette Dinner and Fashion Show. It was a great success and much of that is a result of your skillful work as a presenter and emcee. We have gotten fantastic feedback from participants about the evening and plan to offer similar opportunities next year during Business Week 2011.  Best regards, and again, my sincere thanks for giving back so generously to the College of Business and its students. I look forward to reconnecting at a future COB or College of Business Alumni Network event Stephanie. Amy Humphreys Assistant to the Dean for Constituent Relations College of Business Illinois State University