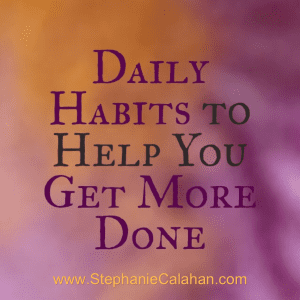 As you search for your ultimate personal productivity blueprint, don't forget to think about how you get going in the morning.  There are some simple things that you can put in place to make sure you hit your full potential. 
In fact, if you don't have a morning routine that enhances your chances of starting off right, you may doom the rest of your day to failure!
The good news is that you can enhance your morning routine and significantly improve your odds of having a productive rest of your day.
With that in mind, here are 5 ways to start a very productive day:
1. Get a Good Night's Sleep – Your Ability to Sleep Well Directly Impacts Your Ability to Focus
As I talk with my clients, I frequently hear them proudly say that they work very hard and sacrifice their sleep so that they can get more done.  Do you work with this perspective?   For decades, professionals have equated the number of hours they spend working and the hours they spend without sleep as representative of their dedication to their job.
I have to admit, I used to think the same thing!  Not anymore, however.  I am now a proud sleeper!  Here is why:
Sleep deprivation severely reduces your productivity and shrinks your attention span. To make it even more concerning, lack of sleep can slow your reaction time down even worse than over drinking alcohol.
Your body repairs damage when you sleep.  It works on your ability to focus and concentrate as well as any physical repairs that are needed.  If you don't get enough sleep, you are robbing yourself of much needed repair time. 
2. Eat Breakfast – Fuel Your Day for a Great Experience
This one should not be a shocker to you.  We hear it all of the time.  Start your day with a well-balanced breakfast.  Not just a cup of coffee.  Not a Snickers bar (no offense to Snickers, they are good, but just not for breakfast.)  Want to understand why?  Check out Top 10 Reasons Not to Skip Your Breakfast.
It is amazing that the most important meal of the day is also the most frequently skipped.  In fact, I used to do this too!  Yes, I had read all of the research about eating breakfast, but I had built some really bad habits…
If you can't make yourself a nice breakfast with protein (it kick starts your brain) and fruits, then consider a Whey Protein drink.  I have found that mixing up a drink is much faster and I could drink it on the go if I needed to.  Putting this into my morning mix helped me quickly change my habits. 
Today, I will either have the drink or cook a full breakfast.  You need to do the same. 
3. Get Your Body Moving! 
Mornings can be tough!  Start your day with a little exercise.  For some that is easy.  I know a lot of runners (I am not) that love to watch the sun rise as they take their morning run.  If that is not you, consider some simple stretches.  Or dance like we do in our house!  As we are getting ready in the morning, we have music playing through the house and dance as we shower, dress, brush our teeth, etc.  The extra movement and energy get us in a positive frame of mind.  Don't like to get physical?  No worries.  Even a little bit can make a difference.  Try going up and down your stairs one extra time every morning.  Just do something.
4. Clarify Specifically — Understand the EXACT Things You Will Be Working On
You can work hard all day and still get nothing done!  Take 10-15 minutes in the morning (or right before you leave the night before) and identify what activities to do that really matter.  Which activities will make the biggest difference to your ultimate goal? 
It is really easy to get caught up on Facebook or Twitter all day and say that you were "networking."  I'm not bashing either of these or on-line networking, in fact, I love them both; moderation is key.  Time can get sucked away from you if you are not careful.  Know why you are doing what you are doing.
5.  Have an Environment that is Focused on Work
It may seem obvious, but your environment is important.  If you are surrounded by piles of paper and sticky notes all over, it can be hard to focus.  If you work from your home, the distractions can potentially be even greater. 
Eliminate as many distractions as possible.  Are you a T.V. junkie?  Then make sure the T.V. is not in the room that you are working in.  Do you find that you chat a lot with your co-workers?  Then make sure to get your coffee and any other necessities before you sit at you desk. 
Mentally shift into work mode too and get down to business.
What About You?
What is your morning routine?  These items have helped me increase my personal productivity, but everyone is different.  Do you have tips or tricks that help you to kick-start and effective day?
To your success!
Live Fully -- Love Openly -- Laugh Often -- Leverage Your Brilliance -- Connect Authentically -- Get Your Message Out -- Serve with Impact -- Prosper Everyday