Almost every private client I have this year wants to write a book, yet many of them have not thought of how they will promote the book with a book launch once it is published. My friend, Debra Jason, is an expert at building her platform and growing relationships, so I knew she would be a great person to come and talk with us about the launch of her new book.
I asked her to sit down and talk with me about the experience and share her lessons learned. She got really transparent with me (I love that) and shared a number of lessons.
Anyone that has ever launched a program or product knows that the entire process is kind of like running a race.
You have a strategy and training and you've done all of your warm ups.  You are ready to get your promotion "out there."
You are running smoothly, when all of the sudden, someone decides to put a hurdle right in the middle of the track! How you respond to that hurdle can make or break your race and your product launch.
What if you could have a pre-view of the hurdles that other "racers" / program launchers have run into?
Now you can!
Product/Program Promotion: Problems and Profits — Launching Lessons Learned.
Occasionally, I'll interview industry experts and ask them about their product or program launches.  I'm selecting people that I know will share the good, the bad and the downright ugly so that you can benefit from their experience.
Today, I'll be talking to Debra Jason of the Write Direction as she shares her experience launching her latest BOOK.
I had the pleasure of observing Debra write and launch her book. As a master networker, she did some really great things with her community that helped her to get a broader reach. I hope it blesses you with inspiration too.
Before I get into the interview, let me tell you a little about this fantastic woman.  I met Debra face-to-face back in 2011 and on Twitter long before that!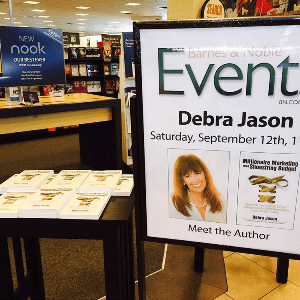 A recipient of the Rocky Mountain Direct Marketing Association's (RMDMA) "Creative Person of the Year Award," Debra Jason started The Write Direction in 1989.
Past President of the RMDMA, she is a seasoned direct response copywriter with more than 30 years of experience in the field of direct marketing. During that time she has personally written thousands upon thousands of words for hundreds of clients around the country (and some overseas).
Debra is the author of the best-selling book Millionaire Marketing on a Shoestring Budget™: How to attract a steady stream of happy clients, make more money and live your dream. She is also a contributing author with New York Times best-selling author Joel Comm, of So What Do You Do? Discovering the Genius Next Door with One Simple Question.
When other writers have researched books on direct response copywriting and freelance writing they've turned to Debra for her input. She has been quoted in such books as The Complete Guide to Writing Web-Based Advertising Copy to Get the Sale, Modern Media Writing, Copywriting Success, Second Lives: Becoming a Freelance Writer and Smart Business Solutions: Direct Marketing & Customer Management.
She believes everyone has a gift to share with the world and wants you to help you get your message out there in a big way—a way that resonates with your ideal clients.
She helps you with "marketing and writing with heart, not hype." I love that!
Hello and welcome Debra! It's nice to have you with us.  Thank you for your willingness to share some of your mistakes and lessons learned so that others could benefit!   Let's start by letting my readers know what you and The Write Direction are all about.
I started The Write Direction in 1989 after looking for a J-O-B. Colorado was in a recession at that time and everywhere I went, I heard, "We're not hiring, we're laying people off." However, these same people also said, "If you were to freelance, we could use your services."
A light bulb went off in my head! I had always wanted my own business, but never really knew what that was going to be. On Jan. 1, 1989, I opened my doors as The Write Direction, specializing in direct response copywriting.
Over the years, I've not only provided copywriting services, but marketing guidance to my clients. Today, while I still offer these services, I am achieving a broader reach as an author and professional speaker. My goal is to not only inspire, but to empower creative solo- and entrepreneurs with business-building strategies that help them attract a steady stream of happy clients, make more money and live their dreams.
Before you wrote your book, you went through a pretty intense series of interviews.  How many people did you interview? How did you get so many awesome people to agree to talk with you? Care to tell us a little about that journey?
When I decided to take my experience and knowledge and turn it into a book, I reached out to several colleagues asking if they would provide their input. Most of them were people I had met an event and maintained relationships with afterward (by the way, to me, marketing is all about building relationships). I am quite fortunate that all I had to do was ask and because of the relationships I'd developed, many were willing to take the time to talk to me.
I interviewed approximately 10 colleagues (yourself included). I also had 2-3 colleagues who had previously contributed content to my blog and I used excerpts from them as well.
Is your book really only for people on a tight budget, or can others benefit too?
It's not really about being on a tight budget. Even those professionals who have large marketing budgets, still need to allocate their funds cost-effectively to make the best use of their resources.
How did you decide on the title and subtitle of your book?
The book is actually based on a presentation I have been doing for many years. After 9-11 many people were scared and started cutting back on their marketing budgets. So in guiding my clients I compiled a list of affordable ways they could get exposure and create or maintain top-of-mind awareness in the marketplace.
I was at one event where, when a colleague heard me mention Millionaire Marketing on a Shoetring Budget™ he said, "That sounds like a book to me!" Today, whenever I mention Millionaire Marketing on a Shoestring Budget, people say, "great title."
There were several iterations of the subtitle and the final one was selected because it pulled the strongest score when using a headline analyzing tool. That tool is called the Emotional Marketing Value Headline Analyzer.
I had the fun of watching your process to create your book cover.  Please share the crowd sourcing strategy you used.
Again, back to relationships, I was fortunate to have several graphic design friends to choose from. The woman I finally worked with, Kathleen Swiderski, did an awesome job in creating the cover. I had 3-4 versions of the design and was having a tough time deciding which ONE to choose. I loved every version she created.
It was on the advice of a colleague that I posted 2 of the cover designs on my Facebook profile. He suggested I do that, not so much to take votes or get opinions, but to create a buzz around the book. I wasn't seeking critiques, just feedback as to which cover caught their eye.
I don't remember exactly what the final number was, but hundreds of people responded to that update on FB. I had long talks with Kathleen and while she left the final decision up to me, she agreed with and supported me wholeheartedly in my choice.
What did you do that went well in your book launch?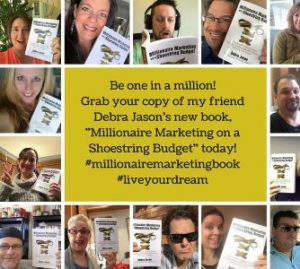 I implemented a Thunderclap campaign. I wish I knew about this tool before I wrote my book as I would have included it in the book as a business-building strategy.
Thunderclap is a "crowdspeaking" platform. They actually liken themselves to an "online flash mob." I wrote about my experience on my blog: How Did Little Ol Me Achieve Social Reach of More than 1 Million
However, a short synopsis is that by asking for folks to dip into their heart and support the launch, simply by clicking on a button via Thunderclap, I ended up with 130 supporters and a social reach of 1.4 million. I'm fairly certain I would not have achieved a social reach like that on my own.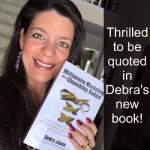 In addition, I sent out pre-release copies of the book to many of my colleagues prior to the book launch. Many of them took photos of themselves with the book, posted the selfies on Facebook and tagged me. I had several people inquire about how they could get the book as a result. One woman in Australia ordered a couple of copies after seeing one of those selfie pics on FB.
I was one of those people posting on social media! It really was fantastic seeing the number of people that had pictures of themselves holding your book. I would cheer every time I saw one.
What didn't go so well during the launch and what were your lessons learned?
There was one glitch on the first day of the official launch that surprised me. All these messages went out via Thunderclap and first thing in the morning a colleague called me saying the link to Amazon on my sales page wasn't working.
I'd say the lesson learned was to test your links. However, I must have tested it a zillion times before launching so I'm not sure what happened there. Fortunately, it was an easy fix and I am grateful to my friend for letting me know. Later, on Facebook, I saw that another colleague had posted a comment about the 404 error. Gratefully, by that time the link was fixed.
The goal of the launch was to stimulate purchases of the paperback version of the book. I had reached Amazon's #1 Best-Seller position for the eBook and wanted to achieve that for the paperback as well. On the sale pages, I offered several bonuses for those who purchased the paperback version. Though it was clearly stated on the sales page, there were several people who ordered the eBook version. Either way, I was grateful for their purchase. (NOTE: The paperback did hit the Top 10 on Amazon's Best Seller list).
How has your marketing changed as a result of what you learned as you were writing and marketing the book?
With the exception of discovering a new cost-effective tool (i.e., Thunderclap), I don't know that my marketing has changed. However the launch was just last week. The book itself will be another marketing tool I use to help me to confirm more speaking gigs.
You have a lot of book signings as a result of writing this book.  What can you share about getting those opportunities and how to make the most of the opportunity?
I got those opportunities by seeking them out. One of them happened as the result of noticing a new book store in LoDo (lower downtown) Denver, walking in the door and asking if they'd be interested in my book. A week later they called to tell me they had placed an order and asked if I'd come in to do a book signing once their order arrived.
Another book signing happened as the result  of someone buying my book and loving it. He heads a networking group called My Chamber Colorado and asked if I'd attend, do a brief presentation and sign books. I graciously accepted (and he's asked me to do a repeat next month).
I have a book signing scheduled Sept. 12 with Barnes & Noble in Boulder. That happened as the result of a friend (fellow author) referring me to a contact there, me calling & emailing him. We went back and forth over the course of a couple of months and finally, confirmed a date.
Two other stores have also asked me to do book signings, but to date, those dates are not confirmed on the calendar.
So, how did these happen? As I talk about in my book (page 38), it's the result of being consistent and persistent. It's not always easy and "yes" there are days I get flustered and think about throwing in the towel, but being persistent (graciously – not a nudge) and going outside that comfort zone has its rewards.
How do I make the most of the opportunities? I let others know about the book signings via my monthly newsletter, "The Copy Cat", sending out emails and targeted LinkedIn messages (i.e., people in the area where the book signing will be) as well as using posts on social networks such as Facebook, LinkedIn, Twitter, G+, etc. (just started Instagram).
As a business owner, what is one of the biggest challenges you have faced and what did you do about it? Any big lessons learned?
At times, being a solopreneur (coupled with the chatter that goes in my mind) can be the biggest challenge. I have a saying "You may be in business FOR yourself, but you're not BY yourself." When I feel alone, I remind myself of that saying.
A lesson learned as a result, is that I discovered that I can turn to colleagues and friends for input when I need it. I have an accountability partner who I speak with every two weeks. Until recently, I was also a member of a small Mastermind (after 2 1/2 – 3 years, we just ended our collaboration). Sometimes it's hard to "see the forest through the trees," so they are awesome at providing feedback and a listening ear when I need it.
With your vast experience, are there any products or tools that you would recommend to make promotion/launches go smoother?
As you may have guessed by now, Thunderclap is my new favorite tool for launches. It's not just for launching books, there are several categories you can choose from to launch a product, event, etc. Check it out at Thunderclap.it (not .com).
Do have any future projects you'd like to tell us about?
The book was like birthing a baby so right now, as I come down from that excitement, I don't have any major projects on the horizon. One idea is to create a workbook that goes along with Millionaire Marketing on a Shoestring Budget and/or develop a coaching program for those who want to dive deeper and have support along the way.
I am considering contacting Chambers of Commerce with an idea that will help them generate non-dues revenue for their organizations while delivering business-building benefits to their members (i.e., having me present the strategies in Millionaire Marketing to them). It's still in the early stages so stay tuned.
Anything else you would like to add?
I want to encourage and inspire others to create a lifestyle that provides them with the flexibility, fun and freedom to do what they love with people they love working with. It's time to let your light shine and live your dream. If you're afraid, know that you're not alone. Don't hold back. People want what you have to offer them. They want to transform their lives and you can help them. You can make a difference. It's not always easy, but when you follow your heart's calling, it is definitely worth the ride.
I started my business from scratch, without a degree in marketing. What I did have was enthusiasm and a desire to succeed. Every suggestion I offer in the book is one I implemented throughout my 26+ years in business. I sincerely believe that if I can go from a certified speech pathologist to successful solopreneur, your readers can also succeed in pursuing their passions.
How can our readers get in touch with you?
For those interested in my copywriting services: www.WriteDirection.com
For those interested in honing their copywriting skills: Magnetic Copywriting: Convert your content from mediocre to monetizing!
For those seeking a dynamic, energetic speaker to inspire & empower their audiences: www.DebraJason.com
For those who wish to purchase an autographed copy of Millionaire Marketing on a Shoestring Budget: www.MillionaireMarketingOnAShoestringBudget.com
Debra, thank you so much for taking the time to share your brilliance today! You shared some really great points of wisdom.
Live Fully -- Love Openly -- Laugh Often -- Leverage Your Brilliance -- Connect Authentically -- Get Your Message Out -- Serve with Impact -- Prosper Everyday