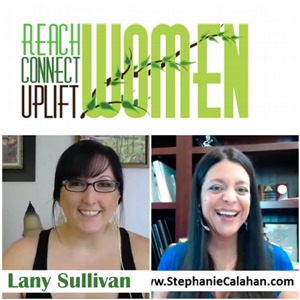 The way you think can impact your results. Listen in as I chat with Lany Sullivan talk about what you can do to change your mindset for the betterment of your business. What you choose to do and be in your daily life can have either a positive or negative impact. We've all been hit by bad days or situations. How we choose to handle them determines the result. In this short interview, we discuss:
Defining yourself before you begin sales conversations
How much of your behavior is driven by your subconscious mind
Turning your "to do's" into "to BEs"
The cost of letting a moment in time impact your day
Being the Bigger You
Attracting clients/customers and how your mindset can affect your sales.
Media Type: Video
Length: 17 minutes
Watch Now!

Cost: No cost, just click play!
Resource(s) I Mentioned
Media Outlet
Reach Connect Uplift Women (RCUWomen)
What They Said
"I LOVE the networking story!! Stephanie, I might need to include you in a blog post!" Michele Jennae
"How to get things done: show up as the person who'll get things done with grace and effectiveness. I love it when the same messages keep repeating themselves in different words so that as many people as possible can tune it and hear it. I keep playing this over in my head. When S was first talking about how you show up, I went to a negative place. I have an old habit of imagining situations (usually the worst) and deciding which version of me I would bring and what I'd say to "win" or at least defend myself. This is anything but big, sovereign, and authentic – it's psyching yourself out in the extreme! But Stephanie took it to the place beyond pretense – to the place where you can positively impact the present moment and your long-term results." Marisa Goudy
"This line >>> 'It is truly about defining yourself. It's about embracing characteristics that match your values and divorcing those that don't.' It's sums it all up so concisely. You are one wise woman and I appreciate the depth and insight that you bring to conversations, business and life. I also believe that it applies to the people in your life as well. Sometimes we need to divorce people that don't match our values." Lany Sullivan
"So full of rich material +Stephanie Calahan and +Lany Sullivan, I hardly know which piece to pull out to talk about. What I'll say instead is that I love the track(s) you're on and they are quite familiar to me even if, here and there, our language or framing may vary." Gina Fiedel
If you enjoyed the episode, I'd love your help spreading the word! Share it on your favorite social media site. Thanks!