Sometimes the best thing for your business is to ignore what others tell you to do and to simply go with your gut. But, how do you know when those choices are appropriate and when they will cause you problems? How do you find out what you want, what audience to serve and how to do it being yourself? Brian Burkard asked me to come on his show, The Marketer's Mindset, to talk about this and a lot more. Since we had more time than a typical podcast, I was able to share a lot of details and exercises that you can do.
Media Type: audio
Length: 01:13:55
Listen Now!
Cost:  no cost, just click play!
You'll Hear
00:22 Introduction
04:36 Are you being you in your business?
05:48 Why niching caused me problems early on and what I did to fix it
09:28 The importance of self-awareness
10:25 The trap of people pleasing
11:32 Asking for what you really want
15:20 The power of being quiet – when the workaholic was told she needed to quit everything
'When you take full accountability, you stop being a victim' Stephanie LH Calahan
Click To Tweet
19: 40 How important is mindset to business success?
20:40 The big word: Control
21:33 Exploring your mindset exercises
'There's always more than one way to perceive things that happen to you.' Stephanie LH Calahan
Click To Tweet
27:27 Tips for developing positive habits in your business
33:17 Figuring out what you want in your business
37:09 How & why to get clear on who your ideal client is
42:01 You have permission to declare who you really want to work with
45:00 What?! You can have fun in your business?
49:13 Picking an adviser/coach/mentor that aligns to how you think, how you learn and what you value – The mindset shift that led a client to a 5 figure sale after a 7 month drought
53:33 The foundations of business will set your success
55:46 What a visibility block is and how they sabotage success
59:07 What to do when you think you're not good enough
01:06:32 What is a successful business mindset?
There are millions of different ways to make money. Why not make money doing stuff you actually like?
You deserve a business that is profitable and life-loving and it doesn't have to be something that drains you on a daily basis in order to be successful. Success is defined in very broad terms. You get to decide. Build something that allows you to live your life in a way that is fulfilling. You don't need a near death experience to make that shift.
01:08:54 How to connect with me
01:0:19 Offer to listeners for an Own Your Brilliance Strategy Session
01:12:02 Closing
Resource(s) I Mentioned
Own Your Brilliance Strategy Session:  http://www.TalkWithSteph.com
Being vs Doing and learning to be intentional with your day free guide
My Interviewer: Brian Burkard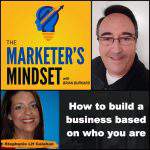 Brian is the host of The Marketer's Mindset. The show is designed to teach and empower the online marketer in creating and sustaining a strong growth mindset so they can build a successful online business and lead a happy and abundant life.  Listeners gain insights, philosophies and strategies on how to have a mindset that allows them to build a sustainable business. If you are a coach, speaker, author, web designer, graphic designer, affiliate marketer or any other business owner that makes their living using the internet, this show is for you.
Back to you!
So what did you think? Did anything stick out to you from our conversation? I'd love to hear about it. Share in the comments or shoot me an email.



Live Fully -- Love Openly -- Laugh Often -- Leverage Your Brilliance -- Connect Authentically -- Get Your Message Out -- Serve with Impact -- Prosper Everyday