Working in a stressful environment is something that seems normal for many professionals. Yet, stress can cause a large number of health issues that often even lead to relationship issues. That certainly was the case for me and that is what Joanne Victoria of the San•IT podcast asked me to dive into. We talked about my decade of working in technology and consulting Fortune 50 companies. We talked about how that stress and bad boundaries impacted my life outside of work and what I did to create a life that eliminated the toxic stuff I had become accustomed to.
Media Type: Audio
Length: 37 minutes
Listen Now!
Cost: no cost, just click play!
You'll Hear
02:34 Being trapped by "golden handcuffs," holding true to personal values and taking a big leap of faith – How sacrificing life for money and being a "hard worker" was not working.
10:00 Thoughts on making career and life moves when loved ones don't understand or even try to talk you out of your decision.
"My personal values saved my life." Stephanie LH Calahan
12:30 Starting a business without a plan.
13:37 Why addiction to overwork almost "took me out."
14:25 Looking at how to handle "heavy time" and stress.
17:19 Habits that were built while working in corporate that caused big problems in the new business.
20:01 Why running on adrenaline is not necessarily a good thing.
24:30 Why putting yourself first is not selfish.
"Live your life as it is meant to be." Stephanie LH Calahan
29:58 Two things to stay healthy in your work/job.
33:00 Examples of ways to give back to yourself.
"Find one way every day to give back to yourself." Stephanie LH Calahan
Resource(s) I Mentioned
Learn how to be intentional – practice your BEing as you are DOing.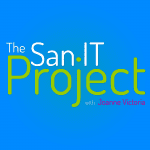 Joanne Victoria is a Life Coach, Speaker and Author of 7 books. Two of her best sellers are: Lighting Your Path – How to Create the Life You Want and Pushy For Moment – Instant Solutions to Everyday Challenges. Joanne partners with Information Technology Professionals whose work/life balance has imploded and who want more fun, more confidence, more success and more inner peace. Joanne interviews experts in the areas of, Health & Wellness, Spirituality and Mindfulness, Family, Relationships, Money and Stress. The San-It Project Podcast is a platform for experts in the self-help community to share their wisdom, expertise and solutions that will help the IT Pro live a sane, healthy and prosperous life.
Back to you!
So what did you think? Did anything stick out to you from our conversation? Did you escape from a toxic workplace or are you maybe still in one? I'd love to hear about it. Share in the comments or shoot me an email.