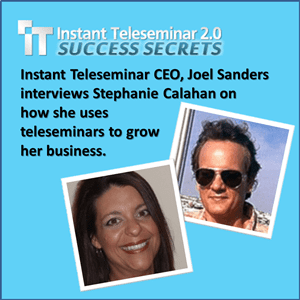 I love introducing you to different types of tools that help you:
Get your message out
Increase your personal productivity and optimize your business
I'm thrilled to tell you about an interview I will be doing that shares a tool that does both!
Instant Access
Go Here: http://instantteleseminar.com/si/stephanie
What You'll Discover – Optimizing and Leveraging InstantTeleseminar
I've been a happy customer of InstantTeleseminar since 2007 and because I'm a bit of a geek and like to multi-purpose, I've found many different ways to use the tool to run and grow my business.
I talked with Instant Teleseminar's CEO, Joel Sanders about how I have done that.
You can access the call here (no opt in): http://instantteleseminar.com/si/stephanie
Discover:
how I use the tool to help me deliver my private and group coaching
how to re-purpose content
my experiences running telesummits (and vetting guests)
and more.  Joel kept me on my toes.
My Interviewer: Joel Sanders
As CEO of Instant Teleseminar, Joel works with some of the world's most influential online marketers to broadcast live teleseminars and simple webinars. Expert in making technology easy and accessible, Joel and his team turn stay-at-home moms, empty nesters, entrepreneurial newbies and technophobes into thriving info-marketers and small business owners.
What They Said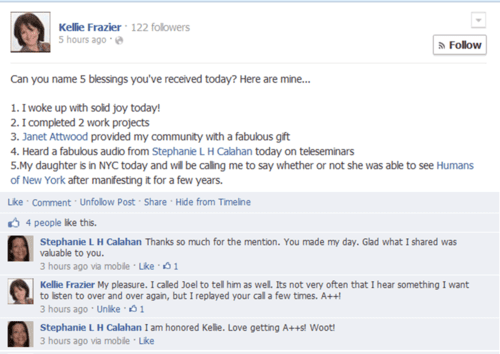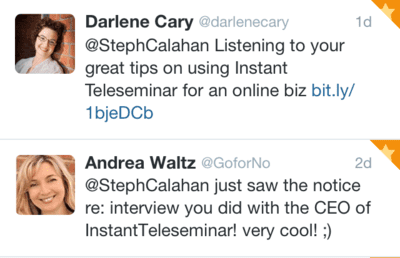 I Hope You'll Listen In
Cost:  no cost, just show up!
Go Here: http://instantteleseminar.com/si/stephanie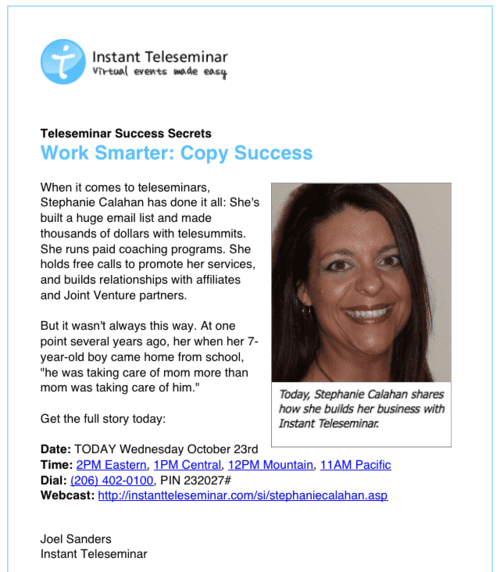 until we talk again,


Live Fully -- Love Openly -- Laugh Often -- Leverage Your Brilliance -- Connect Authentically -- Get Your Message Out -- Serve with Impact -- Prosper Everyday