In the past, I have shared a few personal stories about my husband's heart attack or my battle with health issues. However, I have shied away from this topic. I don't know why. I just have.
Recently, I had a very good friend tell me that by not sharing this story, I was playing small.
YUCK! But maybe she was right… Lately, I have been talking with a lot of people that are hurting on the inside and it is causing them issues taking action in their business.
Then I read this post: Can Your Coach Have a Breakdown by Allison Crow and knew it was time.
"I think it takes true courage to be vulnerable, to be real, to live in both the light AND the shadow of who we are." ~ Allison Crow
So, today, I wanted to take a bit of a different approach and share something very personal. Something that is somewhat hard for me to share — my journey to self-acceptance.
Trying to Get Visible When Every Bone in Your Being Doesn't Want to Sucks
"Challenges make you discover things about yourself that you never really knew. They're what make the instrument stretch-what make you go beyond the norm." ~ Cicely Tyson
I know what it is like to shy away from the camera and have a hard time hearing complements. When I was at my height in weight, I could not look in the mirror with out breaking out in tears. I did not want to participate in society because I feared people were looking at me and saying "wow she should lay off of the McDonalds." (and I did not eat there!)
I had a lot of self-negativity and self-loathing going on. I put a brave face on outside of the house and cried a lot inside of the house. Add to my self image issues all of the medical junk I was experiencing and I was pretty much a mess on the personal side of my life!
But no one knew that, because I never shared that part of me with anyone. In fact, I did not even share it with me! I pushed and pushed. I kept telling myself that it was good for my business to "get out there." I won awards. I was on TV… but on the inside all I wanted to do was hide.
In fact, the internal conflict I was feeling caused a lot of health issues too.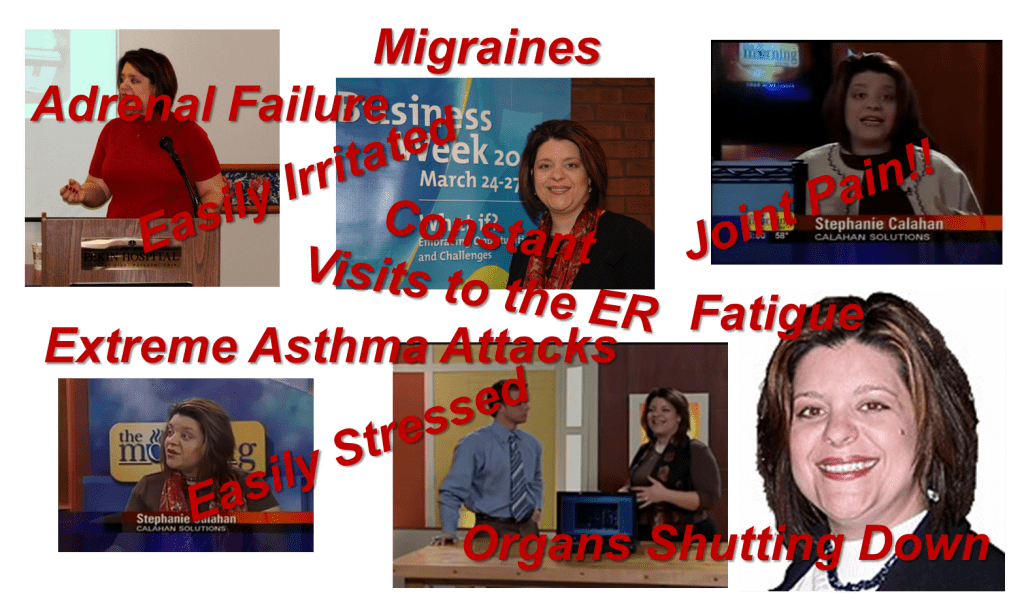 "Nothing splendid has ever been achieved except by those who dared believe that something inside them was superior to circumstance." ~ Bruce Barton
My Blinding Flash of Truth
"You weren't an accident. You weren't mass produced. You aren't an assembly line product. You were deliberately planned, specifically gifted, and lovingly positioned on the earth by the Master Craftsman." ~ Max Lucado
Then one day it hit me. God does not make ugly and every time I was bashing myself (and I was REALLY good at that) I was bashing HIS work.
I stopped and prayed right there. I told God I was sorry and that I did not realize the mistake I had been making. I told Him that if I had to be a size 20+ for the rest of my life I would promise to do better at loving myself.
I asked instead for Him to help heal me internally and medically so that I could be there to be a good mom to my son.
I believe God began to work through me that day. That was the beginning. That was the day I really put it all in God's hands and accepted me for who I was in that moment and time.
After that, I vowed to start every day by looking in the mirror and saying "I love you and you are beautiful." It was weird and uncomfortable, but I did it.
Don't Let Your Negative Self-Talk Confuse You With Who You Really Are
"One of the most powerful shifts that you can make is to take responsibility for your own point of view." ~ Adela Rubio
Now that I'm on the other side of that metamorphosis (Well, I'm still working on stuff, but I've come a long way.) I have realized a few things:
I am loved no matter what I look like to myself or others and that is what really matters.
When people pay you a complement, they are blessing you. When I would shrug off their blessing, I was hurting them. You bless others when you allow yourself to be open to what others see in you that you might not see.
I'm grateful for people in my life — friends, family, coaches, mentors — that help me to see the parts of me that I could not see.
John 13 commands us to Love one another. Mark 12:31 "Thou shalt love thy neighbor as thyself." I could not do both of these commands without loving myself. That meant I needed to love myself too.
By not being accepting of myself, I was teaching my son to not be accepting of himself. That realization REALLY HURT, but the truth does not always feel good.
I'm a work in progress and that is okay.
Every time I release a limiting belief I am able to unleash my brilliance and serve my clients, and the world, in a much bigger and better way.
By accepting me, I can experience ultimate freedom.
My acceptance of me at that point and time was the beginning. I have learned that over the years I had created a rather large list of things I was not accepting of. I've worked through many of them.
"Can you allow yourself to emerge to become the being you truly are? Because believe it or not, for you to become anything less really would be a disappointment to us all. You matter, dear friend, more than you can imagine. And all you must do at the end of the day is tune in, determine what you desire, and go for it with all of your heart." ~ Suzanne Falter
I hope that you can benefit from my journey launch story and maybe start or continue one of your own.
YOU ARE BEAUTIFUL. YOU ARE BEAUTIFUL INSIDE AND OUT.
I see it quite clearly.
Live Fully -- Love Openly -- Laugh Often -- Leverage Your Brilliance -- Connect Authentically -- Get Your Message Out -- Serve with Impact -- Prosper Everyday