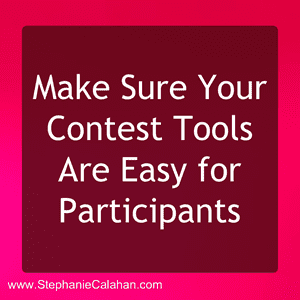 Lately, I have been informally investigating tools to run contests.
I started thinking about this because I have either had colleagues that have been nominated for something or I have been nominated for various things.
As I receive notifications of the voting opportunity via email, twitter, facebook, etc. I click on the link. 
Like many people, if it is not easy for me to figure out, I bounce out without ever having "voted."
Sound like you too?
When you set up opportunities for people to win a giveaway or vote on their favorite person for X honor, make sure that the tools you use are EASY for people to use!
Today, I'll share some horror stories as well as a few examples of tools that were super easy to use.
Think of These Things When Picking a Contest Tool or Process
Make it mobile friendly – The numbers are staggering how many people use their smart phones to access the internet.  There are some tools that are really slick on the computer – like some of the Facebook apps for contests – that are horribly time consuming to use when accessed through a smart phone.  If it looks complex or the user can't figure out how to easily take action, they click off with the intention of coming back later when they're on the computer.  Reality, however, is different.  Most people never go back.
Make it one click simple – I had a friend that asked me to vote for her once.  I clicked on the link to find 100s of different blog posts.  The link did not give directions and I did not see her entry.  Because I really liked her, I followed up.  The maker of the contest wanted the user to scroll through 100s of blog posts, find the person that they wanted to vote for, access the post, make a comment.  Way too many steps!
Examples of Tools that Work
The GGene SIS program recently notified me that I was a finalist for their 2013 Featured Entrepreneur series.  Cool!  You can click here to vote for me if you wish. (pretty please) When I clicked on the link, I was pleased to see that voting was super simple.  Click on your choice and click vote.  Easy peasy.  The other thing about the tool that I liked was that the voting options rotated every time someone clicked on the link. My name moved around on the list!  That helps to ensure that position on the list does not influence voters.
Denise Wakeman recently celebrated 8 years of blogging and offered everyone an opportunity to list their blog and vote for blogs that you like and read.  She used List.ly to conduct the collection and voting.  You can add your blog too and I'd love it if you would vote for mine.  This tool works a little differently because it collects information and is a voting tool.  To add your information to the list, you need to create an account and fill out a form.  However, if you are accessing purly to vote, it is one click simple.  Find what you want to vote for and click the "thumbs up" picture.  This voting process is a little different because the person's position on the list changes as they get more votes.
When you are running a contest where you are randomly handing out prizes rather than asking people to vote, random.org is a fabulous tool to ensure you don't have any bias on who is selected.  When you go to the site, you are able to tell it how many people you would like to choose from.  Then, with the click of a button, the system creates a random number for you to use.  I like using this tool when I give away things on my teleseminars because the tool says for example, #87 and I go to the 87th caller and they win. 
What Tools Do You Use That I Have Not Mentioned?
Check out these three tools and I'd love it if you would share others that I have not mentioned or share a horror story of what not to do!  Together we can make the process of giving others recognition easier.
Live Fully -- Love Openly -- Laugh Often -- Leverage Your Brilliance -- Connect Authentically -- Get Your Message Out -- Serve with Impact -- Prosper Everyday