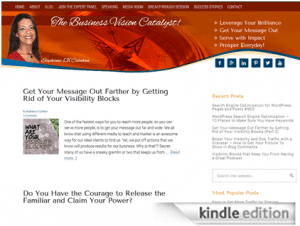 One of the reasons that I can get so much done in my business and in life is because I like things that are easy to implement and this is certainly one of them.
One of the best ways to market on the internet is to re-purpose your content. Why spend time crafting something to only use it once?! The most productive marketers know how to get leverage off of their time.
The Amazon Kindle is one of many e-readers on the market, however; it has a BIG user base. James McQuivey of Forrester Research estimated Kindle sales ranging around four million, as of mid-2010. I'm sure it is higher now. Kindle users are also quite loyal. It goes with them everywhere. You can't necessarily say that about other ways that your blog could get read…
Today, I'll share how you can get your blog onto the Amazon Kindle in under 15 minutes as well as ask you for a little help with mine.
1 – Have Your Marketing Collateral Ready
To add your site tot the Kindle you will need a few pieces of marketing collateral:
The link to your RSS Feed – This is how Amazon Kindle gets your content to publish on the reader.
A JPG picture of your site – You can use a simple screen print to do this. (if you need help let me know in the comments) This is used on Amazon.com for the marketing of your site. See http://amzn.to/e5TlVO
Your blog header image – They use this on the Kindle for your posts
Blog Title
Tagline – A tagline is a short phrase or slogan that describes the contents of your blog.
Blog Description – This is what Amazon.com customers will read to determine if they want to subscribe to your publication.
Blog Author/Publisher
Website Address
2 – Create a Kindle Blog Publishing Account
Go to https://kindlepublishing.amazon.com/gp/vendor/sign-in
and create an account. It is a simple sign up process with your email and a password.
3 – Submit the Information You Collected Above
When you log into your new Kindle publishing account, you will see a choice for "Add a Blog." Click on that choice and you will come to a streamlined one-page submission form. Fill out the form (make sure to validate your RSS feed with the button provided.)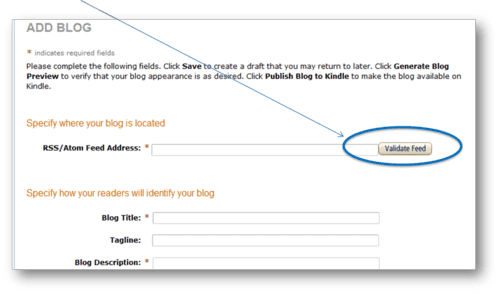 Select the descriptions and categories that most appropriately represent your blog. This allows the customers on Amazon.com to find your content easier. Since they give you 3 categories, use all three!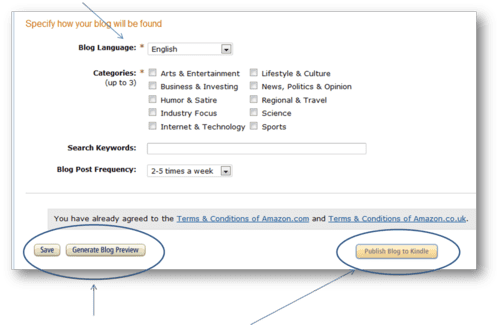 Once your form is completely filled out, save and generate the preview to make sure that it is pulling in your content correctly. Note that the formatting on the Kindle is all the same. It will not match the font selection you have on your blog. They do this so that reading is consistent for the user. That is a good thing! Once you are happy with the preview, click "Publish Blog to Kindle."
If this is the first time you have published to Kindle, you will be asked to review and agree to Terms of service as well as provide payment information. Amazon prices all blog subscriptions at $1.99 US. By providing them payment information, they can give you a commission from the sale of the subscription on the Kindle. The terms outline how all of that works, so make sure to read it.
Once you have clicked Publish, you are in a waiting pattern for about 48 hours. Amazon will review your content to determine that the content is what you say it is. You can check back to your publishing account to see the status at any time.
You are done! As you write new blog posts, the Kindle version will automatically update.
Could You Help Me Out?
Now that my blog is up on Amazon, I would love to see it get rave reviews – of course, what writer wouldn't?! If you have a minute, I'd appreciate you taking the time to go to http://amzn.to/e5TlVO and write a review. By writing a review, you will not only be helping me out, but you will also be giving viewers of the page access to you and your site, so it is another way to be productive with your marketing. The review is for the content, not necessarily the tool, so if you are a reader of this blog I'd love the help.
Come Back And Tell Us
If you end up adding your blog to the Kindle, I invite you to come back here and share the link in the comments along with a few words about what your blog is about.
Live Fully -- Love Openly -- Laugh Often -- Leverage Your Brilliance -- Connect Authentically -- Get Your Message Out -- Serve with Impact -- Prosper Everyday