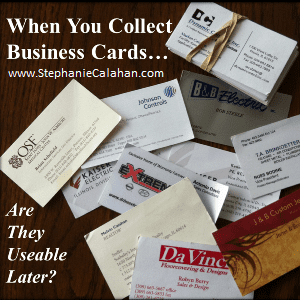 "I have no idea who those people are, but they were important to me at one time…"
That is what a recent client told me when I opened a drawer in her office and found it filled with business cards. The cards had been collected over a year or so of miscellaneous networking events and trade shows.  She'd had good intentions of making connections after the events, but the cards never made it farther than her desk drawer.  Over time, she had forgotten who many of the people were or even why she had kept the card.
Collecting business cards or other forms of contact information is only the first step in networking.  Sometimes it is the only step people do consistently.  A while back I wrote "How to Waste Time and Lose Money Networking" where I shared that follow up is the most important step to networking.  But, how do you make sure to organize all of those business cards so that you CAN do the right FOLLOW UP?
The most effective networkers have a system to manage/organize business cards and their contacts.  Today you will read a number of different strategies that work for my panel.  Some systems are physical and others are electronic, but the important part is that there is a system.  Piles of cards thrown into a box/drawer very rarely advance anywhere to help your business.  🙂
1. Business Cards
When collecting business cards I make a comment on the back of the card re: something to help remember the person. Then I only keep the ones I can anticipate connecting with. They are then placed in a reference (Rolodex) file by type of business and not the name. It is easier to look for a "Printer" than trying to recall the name.
Thanks to Ann Gambrell of Creative Time-Plus
2. From Clutter To Actionable Information
A pile of business cards is simply clutter. How do you turn them into actionable information?
Add them to your contact management system. In addition to the name, phone numbers, company, and e-mail, include where and when you met the person, who introduced you, and why you might want to contact him/her in the future. If your system enables you to categorize or label contacts, do so!
Thanks to Sharon Lowenheim of Organizing Goddess, Inc.
3. I File Them (Then I Forget Them)
When I meet someone and we exchange business cards, I always ask if they're on LinkedIn. If they say "Yes", I note it on their card. Back in my office, I send them an invitation to connect on LinkedIn. When it's accepted, I go to their profile and download their vCard into Outlook, adding any other contact info by reading their business card (the vCard never has a phone number, for example.) The business cards? I file them away, and rarely look at them again.
Thanks to Peter Coombs of FRONTLINE Training & Consulting
4. Business Card Cache
After meeting someone new and returning to my office I am sure to update their name/info in our Virtual Response database. After that, I will add them to my database if necessary. Otherwise I will simply put them into my business card binder to have for future reference.
Thanks to Laurie Meek of LNM Home & Office Management
5. Business Card Binder
I am an avid networker and come back to my office with lots of business cards. I make sure that I send an email to the contacts I met and set up coffee meetings to make a better connection with the ones that I am most interested in pursuing further. The cards are then put into a loose leaf binder with alphabetical dividers by category using business card sheet protectors so they can be located easily and moved around as needed. I have used this system for a long time and it works like a charm
Thanks to Audrey Cupo of A BETTER SPACE – Professional Residential Organizing
6. Note, Input, Synch, Purge
First, when I get a business card at a networking event, I write a note on the back something to trigger my memory later about the person. Then when I get back to my office, I put the cards that "make the cut" (some may be duplicates of someone already in my database, or someone I know I would never follow up with, etc.) into a stand-by area to then input into my contacts database, which is through my web hosting package and synchs to my Mac Mail. I put in as much info as I need to find that contact at a later date (name, company, title, industry, etc). My Mac Mail is searchable and makes finding contacts easy. But I also break my contacts up into categories and distribution lists/folders, so I can separate out Chamber folks, NAPO colleagues, vendors, etc. I like having all of my contacts in the Cloud through my web hosting so I can access them from anywhere in the world, and with the synching to Mac Mail, they are also on my Mac at home and my smart phone. And I recycle the actual cards so they don't become clutter. Great system that works!
Thanks to Lisa Montanaro of LM Organizing Solutions, LLC
7. Booking Notebook
Staple the cards into a little notebook, one card per page. Follow up right away, to identify your true connections, and eliminate the others. Contacts which enter into your business work flow as potential clients, team members, or partners may be transferred to your existing client management system when you make an appointment. Those that become personal friends, service providers, or consultants may simply be transferred to your personal address book. This is good for marketing/direct sales.
Thanks to Shelley Molitor of Established Ways
8. Scan It!
Collecting Business Cards is a normal part of networking, but you may find yourself sitting atop a stack of biz cards and not know what to do. I've approached business card exchanges and networking events over time differently. My goal now is to "connect" with one or two people and not "collect" from everyone! If I meet someone at an event or training session and obtain their business card, I jot down something about that person or the conversation we had to trigger my memory next time I look them up. Then, when I get home, I have two methods of dealing with them. First I scan them into my database using my Neat Receipts scanner. Then I can add them to my Constant Contact database under "Networking Connections", and/or to my  SendOutCards database. This allows me to turn that connection into an opportunity. Their business card disappears as soon as they become networked. If I attend a big event or Expo, I schedule time for this follow up within one week of the event to make sure it's handled while my memory is still warm!
Thanks to Cena Block of Sane Spaces
9. Managing Biz Cards
I think it's important to do some of the work while at the networking event, since I won't remember everything when I get back to the office and process them the next day. I always have a pen with me so I can make notes on the actual card – not only on what we spoke about, but any other bits such as physical description, where they're from, etc., that might jog my memory later. If they approved being added to my newsletter list, I also mark that on the card – usually with an NL in the corner.
Thanks to Brenda Kenny of Busy Bee Organizing Solutions
10. Not Worth Stressing Out About…
When I entered every card into Outlook, I ended up with an address book full of strangers. Now I look them up on LinkedIn and if they're there, I send a connection request. Then I put all the cards in my business card holder in the order I receive them in case I want to refer to them later. When it gets full, I'll pull the oldest cards and follow up or discard, depending on my interest in staying connected. Not conventional, but it works for me!
Thanks to Janet Barclay of Organized Assistant
11. If You're "carded"
If you're carded, it means I met you at a networking event & immediately made notes on your card. I wrote down when and where the event occurred and what we talked about. If you were wearing something unusual and I commented on it, I may have made a note of that, too. The card will help me remember you. But…it will also help you remember me in case I contact you in the future. As soon as I got back to the office, I put your card in a folder labeled "leadership" or some other topic I write on.
Thanks to Marlene Caroselli of Center For Professional Development
12. How To Handle Business Cards? – I Don't!
Like many entrepreneurs, I used to be a compulsive business card trader. After a while, though, I realized this practice was not getting me anywhere. Not only that, but I felt a little foolish when I would assess the pile of "contacts" that, unless processed and marketed in some way, were useless.
Now, *when* I take a person's information, I snap a photo of their card using Evernote, on my smartphone. In 2 clicks, I have their info, organized and accessible to me wherever I go!
Thanks to Lauren Davidson of ARoundTuit Organizing & Productivity
13. Scan, Save & Use
I use a Neat Scanner and the Neat Software. Then I verify the information and export to a CSV (Excel) doc. Next I import them into IContact and send them a nice to meet you eMail. Then they are moved into a Networking group in my Apple Contact program and transferred to an appropriate group for future contact and reference.
By doing all that… I have them synced to my IPhone and IPad for easy access and reference.
Thanks to Brian Basilico of B2b Interactive Marketing, Inc.
14. Get Rid Of Those Cards ASAP
I send business cards to my virtual assistant or a service like eclick2business.com so that they can be entered into a system ASAP.
To make sure I get it done, I keep pre-addressed envelopes in my car. That way I can pop them in the mail on my way back from the networking meeting!
Thanks to Jackie Kiadii of Atlanta Software Trainer
15. Business Card Bonanza!
Before I leave the networking event – even in the car or on the train — I jot notes on the back of the card about each person, the date & where we met, what we talked about, which free LinkedIn articles to send them. Then I put all the info into my Outlook Contacts and ACT! contact manager. I immediately schedule a follow-up call &/or email, and send a card with SendOutCards. And I follow up. I stand out to them, they remember me, and we often do business together. Speed stuns.
Thanks to Jan Wallen of LinkedIn Works!
16. Business Cards Tamed!
I purchase those bound books that allow you to store the cards in sleeves. I organize them in categories like colleagues, competitors, service providers, friends, etc…I keep it close at hand for quick reference, especially when I want to offer a referral! All the best!
Thanks to Rick Lawson
17. Chaos Without A Cloud Based CRM
I enter data from business cards into a cloud based Customer Relationship Management system that can sync with the contacts, calendar and tasks in my mobile. I can then 'tag' and categorise (or categorize – for the American crew) my contacts with multiple tags.
Thanks to Maggie Langley of OfficeHounds
18. Business Card Management
I scan all business cards into Outlook contacts. Then I enter keywords in the notes section and rely on the search command to locate a person or specialty.
Thanks to Terri Sullivan of Personally Organized
19. Avoiding The Great Business Card Pile-Up
I remember people based on where I met them. So I write on the card: name of the event, location & date. Then I put the cards in the plastic sheets for business cards. The sheets are kept in a notebook with dividers, based on the type of event or who sponsored it. So all the chamber and general networking events are in one section. Women's groups in another. And workshops or seminars are separated by the name of the trainer, especially if it was a big training event that lasted a few days.
Thanks to Faye Levow of Launch Pad Publishing Inc.
20. Quick Business Card Management
While I would prefer to do additional things with my business cards, like scan, verify and classify them, it takes too much tIme. Instead, I immediately link with them on LinkedIn. I do as I advise people when I consult on business and social media etiquette. I follow up with the contact and add a personalized note as to where we met when I request the link. That way both of us have a record of that and it is good business!
Thanks to Monica Molstad Baresh of ImageThat! Image And Etiquette Consulting & Public Speaker
21. Why Put Off For Tomorrow What You Can Do Right Now!
You just met a new potential contact, shook hands, exchanged pleasantries and of course… your business cards. Now what? If you're like most people you took it back to your office or desk and let it sit there in a pile. Next time try pulling out your smart phone and entering the contact information right then and there. If the person's contact information isn't something you think you'll ever really need politely take the card, put it in your pocket and then discreetly toss it.
Thanks to Trish Hilliard of Simplicity Please
22. Turn Biz Card Clutter Into A Searchable Database
Best thing is to convert them into a database. You can enter the information manually into Outlook or a similar application, or do it quickly and easily with a card scanner such as CardScan or Neat Receipts. These devices read business cards and distribute the information into the proper fields in their software, enabling you to find any contact by searching on any field. They also capture images such as logos, so you don't even need to keep the cards!
Thanks to Elaine Quinn of Space Craft Organizing
23. Keep the Info not the Paper
I put the information into the computer as soon as possible. That way you can search by either name or company and add a note about how and why you might contact them. I also recommend setting up a few categories so that the people you have just met but don't yet have a relationship with get funneled in as you get to know them. Sample categories might be: intro, inquiry, client, advocate, resource. now that is searchable too.
Thanks to Miriam Ortiz y Pino CPO® of More than Organized
Responses compiled by Stephanie LH Calahan of Calahan Solutions, Inc.
Resources Mentioned In This Post
SendOutCards – Easy way to connect with people you care about using the regular snail mail. 
LinkedIN – The business networkers social network. 
Physical Rolodex Type Organizers – If you frequently give out other people's business cards in your networking, you can find great options here.
Business Card Scanners
– There are a number of different types of scanners and my panel suggested a few different ones as well.  This link takes you to a page of different options.
Evernote – If you are a smartphone user this is worth checking out.  Many of my organizer colleagues use this tool as their main source of information storage.
Your Turn!
I know that there are a lot of other great ideas out there.  What do you do to organize the business cards that you collect?  I know that there are a lot of other options out there!
Live Fully -- Love Openly -- Laugh Often -- Leverage Your Brilliance -- Connect Authentically -- Get Your Message Out -- Serve with Impact -- Prosper Everyday

*Disclosure: Some of the links on this page are affiliate links. That means that I may get a small thank you commission (at no additional cost to you) if you choose to purchase a product from the company mentioned. I only refer you to programs that are ran by people I personally know or I have participated in, but please use your judgement to decide if this is right for you. If you would prefer that I not get that, feel free to Google the company and purchase directly.