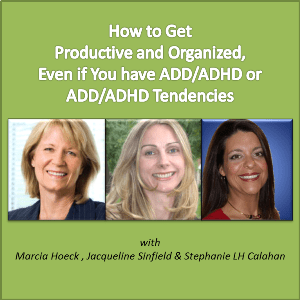 "I must be going crazy!" he stated a few days ago.  His frustration was apparent and he stated he was desperate.  Although he was extremely bright, he just could not get out of the bad habits that he had developed in his office and those habits were now spilling over to the rest of his staff.  After talking with him for a while he told me that he thought he was helpless, but wanted advice from a professional. But I can assure you, he is not "going crazy."
Does Joe's situation sound familiar?
You know a ton of stuff about the field you're in. You're a hard worker.  You have tried a number of things to manage your time, space and information, but systems and processes just don't stick.  You're not an idiot…
Why is it when it comes to staying focused and getting things done, you feel like a failure?  It's not true, of course, but it can feel that way.
Are you an entrepreneur with Attention Deficit AD/HD tendencies? Do you have your own business and have 'AD/HD moments' once in a while?
Dr Ned Hallowell said,
"ADD is actually a gift, but it can be really hard to un-wrap."
As entrepreneurs, we can be fun, dynamic, creative, inventive, expansive thinkers, out-of-the-box thinkers, quick-think-on-your-feet thinkers, adaptable, sensitive, and frequently have above-average intelligence.
We can also experience what can seem like odd paradoxes in behavior:
Easily distracted one day and hyper focused the next
Unaware of details one day and compulsive about details the next
Assertive and demanding one day and then passive the next
Amazingly forgetful sometimes and memory for the most minute detail the next
Very unorganized in some aspects of life but extremely organized with elaborate systems in another aspect.
Desiring structure but rebelling against it or abandoning structure
Risk taker that can be stopped by endless "what-if"scenarios
An Outgoing Introvert
We're passionate about what we do and sometimes the thought of asking for help is as enticing as having a quadruple bypass surgery.
Interesting Tie to AD/HD
Interestingly enough, these same characteristics are often identified in people with AD/HD.  In fact, even the most organized and successful entrepreneurs can sometimes experience these tendencies.
On the surface, many are ashamed of these characteristics.  However, your success is most likely because of them not in spite of them.
Unwanted AD/HD Tendencies Can Catch Up With You
Nevertheless, these characteristics do come with a warning label.  If you do not have systems, processes and productive mindset activities in place, your unwanted AD/HD tendencies could take over when you least want them to leaving you feeling low self-esteem, unproductive and unprofitable.
Jacqueline Sinfield shares, "Even though you know you have great talents and skills, those pesky unwanted ADHD tendencies can take over. Rather like weeds in a beautiful flower garden."
Often when we have AD/HD tendencies, we try technique after technique and find failure.  The techniques that work for others will not work for us.  Just like a garden supply store has many weed-prevention and weed-abatement options, you do too!  The trick is identifying the right techniques for you.
Madelyn Griffith Haynie The Optimal Functioning Institute said, "If the shoe doesn't fit, don't blame the foot."
Sign up today for Business Coach Marcia Hoeck and AD/HD Coach Jacqueline Sinfield's special interview with me, to hear  tips for working around your own demons.
I'm excited to be on this call because I have been studying the topic of AD/HD since 7th grade.  Back then, my youngest brother was diagnosed with Attention Deficit Disorder – ADD and I wanted to understand what that meant and help him to understand.  Many of my research papers in both high school and college were on the topic of learning differences and I continues to pursue further knowledge in that area today.
About the Interviewers
Jacqueline Sinfield
As well as being a registered nurse, Jacqueline is a qualified counselor, has a degree in psychology (Hons) from London, England and is a graduate of Coach University. Her expertise has been featured in the media, including CJAD radio and the Montreal Gazette. Her first ADHD book, "Untapped Brilliance: How to Reach your Full Potential as an Adult with ADHD", has been endorsed by Dr. Hallowell and Dr. Gabor Mate.
She has helped hundreds of adults with ADHD all around the world, and lives in her all-time favourite city, Montreal, Canada, with the fluffiest cat, Kitty.
Marcia Hoeck
For 25 years, as owner of a leading marketing communications firm, Marcia lived what she now teaches. Through trial and error and study of other organizations, Marcia developed simple systems that enabled her to reduce the amount of time spent managing her business while increasing her revenues, creating a business with great flexibility.
Now a consultant, Marcia shares her secrets, showing how to create a business that works for you — both spiritually and productively — and frees you to do what you started your business for in the first place.
Marcia lives in Grosse Ile, Michigan, with her husband Todd and two doglets, Amazing Grace, an amazing bichon, and Liesl Diesel Weasel Bezo, a miniature dachshund who needs a long name.
You deserve extraordinary.
UPDATE: Now that the live interview is over, you can listen in below.
How to get productive and organized even if you have adhd or adhd tendencies
Live Fully -- Love Openly -- Laugh Often -- Leverage Your Brilliance -- Connect Authentically -- Get Your Message Out -- Serve with Impact -- Prosper Everyday