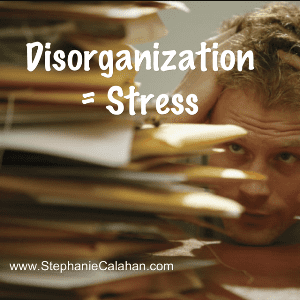 Have you ever had one of those days or weeks where nothing goes as you originally planned? Well, if you have, you are not alone.
Studies have shown that people waste as much as 4.3 hours per week searching for papers.
In addition, the average North American will be interrupted 73 times a day!
Since it takes 20-30 minutes to transition into deep, critical and creative thought, every interruption causes huge dips in productivity. After a worker is interrupted, it gets worse. Not only do they struggle to get into their creative zone, they lose productivity because they are repeating steps to retrace where they left off. According to a recent study by Basex, the cost is $588 billion a year in the U.S. alone.
Office supply company, Esselte Ltd. conducted a study that reported, disorganization on the job makes people severely stressed. Add to that, 75-90% of all visits to physicians are stress related – and we wonder why all of our health care costs are going up. The survey found:
3 out of 4 workers surveyed worldwide agreed with this statement: "I find myself becoming more stressed when everything is a mess and I can't find important documents when needed."
Forty-three percent of the 504 Americans surveyed described themselves as disorganized
Twenty-one percent have missed crucial work deadlines.
Nearly half say disorganization causes them to work late at least 2 to 3 times a week.
"Unfortunately, many U.S. workers don't prioritize getting organized with only 1% regarding filing as an important element of work. In fact, this may be at the root of so many workers facing 'psychologically toxic' conditions in the office. Not surprisingly, lack of organization has meant nearly one-fifth (21%) have missed deadlines."
According to business psychologist Ross DeSimone:
There are things in our work lives that we feel less comfortable and confident about, so we mask these insecurities by being busy in areas that we do feel comfortable.
'When people feel a time crunch, it can make them more brusque, which can frustrate their co-workers, destroy teamwork, and generally make them not want to help out when that person is in a jam.
'When people feel blue, they lose energy – when they lose energy, they do less, and then they are down on themselves, and that's a cycle.
Many people try to break the stream of stress by cleaning off their desk. Sometimes that "cleaning" is taking piles that were on top of the desk and throwing them into a drawer. The top of the workspace now looks good!
Ultimately that behavior only makes matters worse. It is postponing what is really needed to feel in control and stress free — making a change in behavior. Organizing is about finding what you need when you need it. It is about living with a clear set of priorities that make sense for the individual.
If you or your team are exhibiting stress due to disorganization, take a step back and start looking at the causes of the stress rather than the symptoms. Don't know where to start? Take caution in making numerous changes at once. The average person can only work on 3 major changes at once and be successful. Getting organized takes time and a change in habits. When the habits are changed and maintained a feeling of release will happen and open more creative work on the business can begin.
Have some ideas that you would like to "bounce around?" Have something you have tried and it worked? Leave your comments in the comments field below.
To your success!