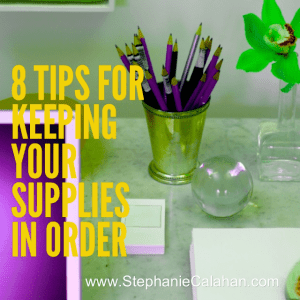 So how many push pins and paper clips do you really need at your desk? Office costs are going up by the minute and we are frequently to blame! Walking by the supply room… we grab a few boxes "just in case" not really knowing if we need the item or not. So, we end up with a bunch of stuff in our office or cube that takes up room and that we do not use! So, consider the following tips for your space.
Pick Up — Return supplies to their homes as soon as you are finished with them.
Recycle for Organizing Small Items — An inexpensive way to organize drawers that contain small items (such as push pins or paper clips and the sort) is to use the containers of the "lunchables" or other kids' ready-made dinners.
Keep Only What You Need — Only keep what you need nearby and put the rest in storage or the closet. Keeping extra supplies at your desk makes inventory difficult and your space more cluttered.
Stacking Trays are Great Tools — You can store anything letter or legal-sized (letterhead, folders, note pads, sheet protectors, etc.) very easily and efficiently in stacking trays.
Follow the 3/4 Rule — When you have gone through 3/4 of your supply of any item, it's time to buy more.
Create an Inventory/Shopping List — Create a standard supply list of items you use regularly. As you run low on items, mark the list for re-supply. You will be set when you are ready to go shopping.
Productivity Management Through Inventory Management — It is not only a hassle to run out of supplies just when you need them, it is also a waste of time to run out to the store or store room for individual items. Set up an inventory sheet and use it to do a monthly inventory check. On your sheet, list all of your supplies and amounts ordered. You can track how long supplies last and adjust for future orders accordingly.
Hoarding is Not Necessary — Try not to hoard supplies at your desk. Keep only as much as you need right now at your workstation. Store extras in labeled containers and group like items together ex: writing utensils, clips, notepads, etc.
 Let me know how it goes! I love to hear about your successes! Have other ideas, I'd love to hear those too.
 To your success!
Stephanie