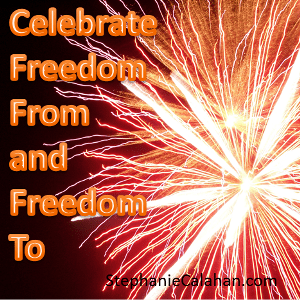 This weekend, in the US, we are celebrating our nation's Independence Day. This past week, my Canadian buddies held similar celebrations. Whether you live in the states or not, this is a great time for all of us to celebrate our many, many freedoms.
Today I write this post about "Freedom From" and "Freedom To" especially for you and anyone that dreams of living without overwhelm — about living and working the way they want and focusing on what is really important.
Independence Day for me has been a time to spend with family, enjoy some amazing light shows (I took that picture to the left) and reflect on freedom. This year I have been inspired by my article writing guru buddy Jeff Herring from his post. So here are my "Freedom From & Freedom To" hopes for you.
Freedom From
Freedom From – Giving up vacation time. Many of the people that I work with tell me about the hours or days of vacation time they give up every year because they don't feel comfortable taking the time away from work.
Freedom From – Paper piles that overwhelm. Most business professionals and entrepreneurs do not have the systems necessary to find information when they need to have it. This results in frustrations and more time at work rather than where they really want to be.
Freedom From – Information Overload. There is an immense amount of information available today. From Twitter and Facebook to ezines and special reports. It is difficult to know what to read and what to let go.
Freedom From – Minute by Minute Accounts of Bad News. Like Jeff, I've been on a "media diet" this year, and rarely watch the news or read the newspaper. "There's just too much negativity that brainwashes people to believe they cannot achieve their dreams." I have found that I'm not missing much, because friends and family ensure that I hear the really important pieces.
Freedom To
Freedom To – Live the life you want. There are so many people that live 9 to 5 and never find a way to do the things that are really important in their lives. Remember, your time here is but once. Make the most of it! Schedule today! Lock in time for things that are important to you before life fills your calendar with other things.
Freedom To – Hit the delete key. So many people keep emails that they know they will never read, but feel they ought to read. Pick 2 of all of those you are keeping and delete the rest. You'll be amazed how good and freeing it feels!
Freedom To – Simplify. So many people develop organizing systems that have many steps or systems that worked for other people. I love to take all of the mess and boil it down to the most streamlined repeatable steps. I enjoy teaching this to my clients and members.
Freedom To – Inspire. I Love seeing my readers and clients take ACTION on what they learn and build their businesses and lives to a newer level of success and freedom.
Freedom To – Be healthy, happy and loved. I wish you the very best today and all the days in the future. May you be healthy, happy and loved.
I invite you to celebrate, appreciate, and exercise your freedoms… I'd love to hear your comments below on the FREEDOM FROM and FREEDOM TO ideas that you have.
Happy Independence Day!
To your success!