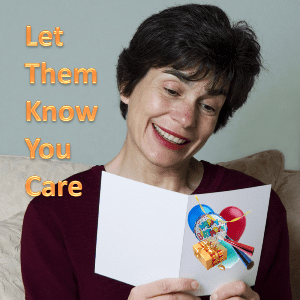 Recently, I have had a lot of colleagues and readers ask me how I stay in touch with people that are important to me and I realized that I had not talked about this tool in a while. When I first learned about this tool, I thought it had to be too good to be true. Boy was I wrong! The company continues to impress me with their ability to upgrade and keep costs low and value high. Keep reading to learn the benefits and how this tool has helped me.
A good friend of mine sent me a card a number of years ago with a picture of her son, new motorcycles and dog on the inside of the card. I thought it was so cool that I called and asked her how she did it. Since then, I have become a very big fan of the SendOutCards organization.
Benefits of SendOutCards
1. Remember client anniversaries, birthdays and any other important date with the reminder feature.
2. Create cards with your own pictures and words – I use personalized cards for clients and family. It is so awesome to get thank yous for thank you cards I send out!
3. Use your own handwriting and signatures – This is for real. My handwriting is right on the card. Super easy to make happen – heck! The company does the hard work.
4. Spend as little as $0.62 a card not $3.00! All of these custom features and the cards are still way cheaper than the grocery store.
5. Include gifts and gift cards – send a baby toy to your client, cookies to your mom and a business book to your coach.
6. Cards printed, mailed, stamped and sent first-class mail – saving you time. The thing that keeps us from sending out more cards is the time it takes to do. This is no longer the case because they do all of the time consuming stuff for you.
7. Great for personal and business use for follow up and to spark interest, referrals and repeat customers.
8. You can send individual cards to a group of people with one click of a button
9. Your contact database can be easily loaded to the system to make sending cards a breeze.
10. Choose from over 15,000 cards with a very diverse set of designs – no more driving to the store because your membership is open 24/7.
Let Send Out Cards do the work for you. No trips to the store to buy cards, no stuffing envelopes, no buying stamps and no walking to the mail box! Send out a card any time you are thinking about it and it is convenient for you. Want to include a gift or gift card? No problem!
Never forget a birthday, anniversary or special event again for a Family Member, Friend or Client. For that matter, just send a card to let someone know how important they are to you.
Send a card on me! Go to http://www.sendoutcards.com/11788 or let me know you want to know more. I offer no cost training to anyone that signs up in my referral group.
To your success!
PS- I am a distributor for SOC. That means that if you decide to sign up, I'd get a portion of the commission of your signup.