The other day I was spending time in one of my Facebook groups and I came across this post:
Christine Alejandro >>  "Can anybody tell me how to get my photo to show up when I leave a comment on another person's blog instead of that weird squiggly thing that shows up in place of my photo."
and that was followed by
Kimberly Eldredge >> "Yes!  Yes! I did it once and don't remember HOW I did it.  If you could also please include how to UPDATE the image."
One fantastic way to increase your visibility is by posting comments on other people's blogs. One way to help your comments stand out from someone else's (and reinforce your personal branding) is to use a Gravatar (Globally Recognized Avatar).  A Gravatar is a small thumbnail picture that will show up next to your comment rather than a generic image.  Most blogging platforms (like WordPress, Typpepad, Blogger, etc.) support Gravatars.
The thing I love about Gravatar is that I can upload my picture once and it is updated all across the web! 
Let's Look at a Posting with and Without a Gravatar
Which one of these comment headings draws your attention?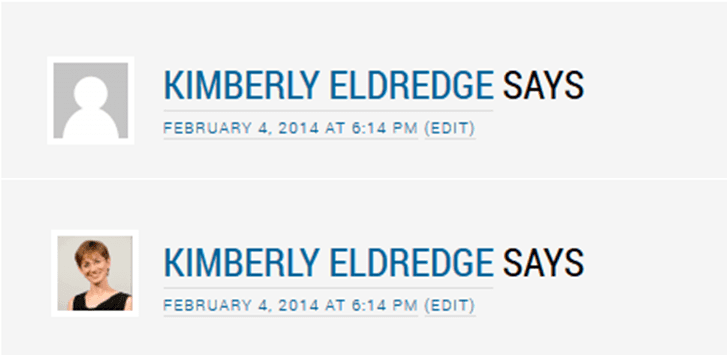 My eye clearly goes to the sample that has Kimberly's picture.  Instant extra visibility on the web!
How to Create a Gravatar
Ok, so now that you see the logic in taking a few minutes to create  your Gravatar, here are the steps to set it up.
1 — Go to www.gravatar.com
2 — Click the big blue button that says "Create Your Own Gravatar"
3a — If you already have a wordpress.com account, sign into that account
3b — If you don't have a wordpress.com account, enter an email address and password in the form provided along with a user name.  Then, click sign up.  Note: use the email address that you normally use for commenting. 
4 — Look for and click the activate link the email they send to you.
5 — Sign into the account you just created.
5 — Click "Add one by clicking here!"  You will have four button choices:
If you want to upload from your computer – choose My Computer's Hard Drive
If you want to use an image that is already on the internet – choose An Image on the Internet
If you would like to use an image that you have uploaded at a different time – choose A Previously Uploaded Image
If you want to take a picture to use – choose  A Webcam Attached to Your Computer
6 — Once you have added your picture, you will be taken to a simple editing window.  In it, you will see previews of how your picture will appear.  They also have a slick cropping tool to let you select the area of the picture that looks best in the thumbnail.
7 — You will then be asked to give your Gravatar a rating (much like the movies). 
8 — The last step in the setup is to click the image to select/confirm it for use.
Then you're done!  When you comment on someone's blog, use the same email you used to create your Gravatar and your picture will show up automatically.
Advanced Visibility with Gravatar
1 — Your Gravitar account also has a profile attached.  This profile is searchable, so make sure to fill in the information.  Share who you are and what you do!  Simply click on My Profile in the top navigation to be taken to the profile edit page. 
2 — Your About the Author Profile image on WordPress sites can also be tied to your Gravatar.  If you see my bio box at the end of this post or if you look at my media page on this site, the image you see of me is my Gravatar.  If I ever update my image, it will update on my site too!  How is that for easy visibility?
How to Change Your Image Later
For branding purposes, it is a good idea to keep your profile/avatar/social media pictures the same.  When you have the same image across a number of platforms, you allow people to start recognizing you.  (Tip, you can even take the same picture and put it on your business card to help people connect when you meet face-to-face too.)
All that said, if you are updating your images (a good idea if your image no longer looks like you!) then you simply log into your Gravitar account and click the add a new image link.
If you don't remember your user name and password, try various emails and ask for a password reset.    
Special Strategy Tip:
When you pick your images for comments, social media, on your blog, in your email signature, etc.  are they the same picture, or do you have different pictures?  If you pick ONE image and use it in all locations, you are more likely to be recognized and build authority faster.  I've been using this strategy for a few years now and the results are impressive.  People recognize me at live events (make sure the pic you use actually looks like you!), stop me in stores, and follow me on multiple platforms because they recognize me.  There is a reason that the big corporations have the same logo on every commercial or even have the same commercial in heavy rotation.  Repetition forms familiarity and that, over time, can build the know/like/trust factor.
Special Tech Tip:  Make Your Image Retna Ready!
Apple redefined screen resolution with retna displays.  The images that you see on a retna display are sharper than ever before.  Clarity! It's great!  However, if you are still using pictures that are not optimized to be "retna ready" you could end up looking blurry on someones iPad.
Consider supporting a sharper you.  You'll want to upload a higher resolution picture of yourself to take advantage of the retna-ready Gravatar.  If you'd like to know more about that, check out this post on how to make your Gravatar retna-ready along with a sample picture showing you the difference between retna-ready and a picture that is not.
That's it!  Create your Gravatar today and let me know how it goes.
Here's to your consistent visibility across the web!