In my post, Get Your Message Out Farther by Getting Rid of Your Visibility Blocks, I shared the story of how a magazine had asked me to share my story of getting my health back and then asked me to do a photo shoot for a small article in the magazine.  In that post, I shared one of my still lingering visibility blocks of having still photos taken and how I decided to say yes anyway.
A Visibility Block is simply a belief that you knowingly or unknowingly have going on in your subconscious that is limiting your ability to get more visible!
I promised to share about my experience with the pro team and what it was like to do the photo shoot in my home, so I'll be sharing that today.  I'll also share some things I wish I had done and didn't; so that when you have this opportunity, you can be ready!
How the Reporter Found Me
Ever since clients, friends and family have seen me on the cover of the magazine in their grocery stores, they have been asking me how it happened that I was talking to a reporter miles away from me.  If they were wondering, you might be too, so let's start there.
For years, I have been subscribing to HARO (Help a Reporter Out) as well as other sources for media leads.
Three times a day I receive rather long emails from them listing various opportunities to respond to newspapers, magazines, TV shows, etc.
I will scan through the request for sources and respond if it fits something I can help and my private clients also get heads up when a request fits something that they are experts in.
When I find a request that matches an area I talk about, I submit a short pitch (response to their request) telling the reporter/editor how I can help them.
If they like what they read, they reply back.
In this case, a writer contacted me on a completely unrelated request about 4 months ago.  We had chatted via email, but her editor decided to not go with the story at the time.
Then, a few months later, I received an email from the same reporter asking if I had experience with a different spin on my story.  I did and that is where the conversation stemmed that I shared in my post.
The Photo Shoot
The Prep
The day of "the shoot," three brilliantly wonderful women showed up at my home ready to primp and photo me.  Justine Bursoni (photographer), Tanya Deemer (hair & makeup) and
The stylist was there to identify the clothing and jewelry I would wear.  I wore my clothes, but the magazine was very specific about the "look" they wanted.
It was really clear watching the women work that each had received very specific instructions from the magazine.
The makeup and hair person put waves in my hair and I have not had that much product in it since my 90's gravity defying "mall hair" days (my husband and son loved the curls, so I may try it out in the future.)  On the flip side, the magazine wanted a "natural" look, so my makeup was very different from what I would normally wear.  I was okay with that, but it was interesting looking in the mirror and seeing me, but not me at the same time.
Note For You:  When you are in a print article, understand that they have a "spin" and "styling" that they want to get across.  You may not look like or feel like you in order to cover what they want to cover.  Make sure you are okay with that before you say yes.
It was super humorous and interesting the amount of time and effort that was put into making me look "natural."
Taking the Pictures
I have had professional photos taken before, but never with an audience that was looking with a critical eye to make sure that my clothes were not puckering/wrinkling or that I did not have any "fly-a-ways" with my hair.
Cross your left leg over your right, suck in your stomach (so the belt loops on the jeans would not show under the shirt), tighten thigh, lower left shoulder, hand on thigh but relax it, tilt forehead forward…
Wait! wait! you have a stray hair — more hairspray, but hold the pose.
Shift one inch — wait! Your shirt is puckering (stylist jumps to straighten it out… )
But above all look natural.
It was so funny!
At one point the photographer laughed because she was told to get action shots, but my clothes needed to stay in place and my hair couldn't have any fly-always.
She literally took 100s of pictures.
Whew!
Things I Wish I Had Done Differently
When I contacted the photo editor at the magazine (after the shoot) she told me that they owned the pictures and I could not use them.  Phooey!  I had signed a release, but it did not say anything about my use of the images.
The day went so fast that I did not take my own before/after shots or any pictures of my team or the day in general.  I knew that I'd be writing this story, but thought I'd be able to use pictures that the photographer took.
Note For You:  If you agree to having your photo taken for a publication, make sure you understand your reuse rights.  Also make sure you understand the rights that you are giving to the publisher.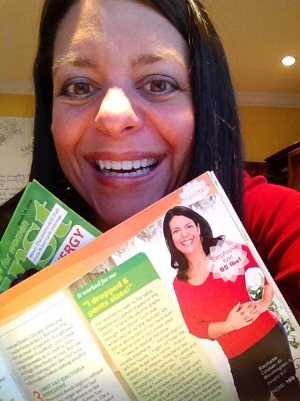 After 3 hours I finally relaxed enough that I think they got a shot they liked.  I even remember when the photographer took the shot that the magazine ultimately used.  We had taken a break and I was standing and talking with everyone.  The photographer tells me to hold the pose.  That is the shot they used.
Note For You:  Turn on some fun music and have fun with it!
I am really glad that I worked with professionals that knew how to make it fun, but the next day I was sore in muscles I did not know I had!
Note For You:  Drink lots of water and take good care of your body, maybe a warm bath, after so you don't wake up the way I did.
After the Publication Came Out
The story I told had nothing to do with my business.  Years ago had committed to sharing my story of finding health and living life fully to anyone that would listen so that I could help other women have hope and not go through what I went through.
With that in mind, I did not really promote that I was in the magazine.  But an interesting thing happened:
Friends and family had fun things to say. — My favorite was from my cousin, "LOL…when I first saw this I thought it was just one of those 'fb made up put your face on a magazine' postings…but I saw it at the Publix today…good for you Stephanie"
I also had a number of people contact me on my social media profiles asking if it was really me.  Some of the people I had not heard from in a long time and it gave me an opportunity to re-open relationships and conversation.
Most importantly, I killed a visibility gremlin.  Woot!
Now, I'm telling the universe I'm ready for more! Bring it on!
What visibility blocks / visibility gremlins can YOU let go of today, so that the world can see how awesome you are?
If you are ready to let go of those blocks and put solid strategies in place to get your message out, maybe it is time for you to apply for a "Goodbye to Gremlins" strategy session.
Live Fully -- Love Openly -- Laugh Often -- Leverage Your Brilliance -- Connect Authentically -- Get Your Message Out -- Serve with Impact -- Prosper Everyday