Parenting and running your own business at the same time can be a challenge. What happens when you try to mix being an engaged and involved parent and owning a successful business? In this episode of The Productive Parent, Ana Reisdorf and I talk about the intersection between entrepreneurship and parenthood and how to effortlessly excel at both guilt-free and resentment-free! It really is possible with some focused intention and creative strategy.
Media Type: Audio
Length: 40 minutes
Listen Now!
You'll Hear
01:40 A bit about my family
02:05 My story of how I started Calahan Solutions, Inc. – false starts and all and how I work with my clients today.
11:02 How to select a coach that will help you reach your goals and why that is important to your success.
17:58 Be honest with yourself about what you will really do before you hire someone.
25:53 How I balance owning a business and being a mom as a recovering control freak and recovering perfectionist.
31:00 Transitioning from work-time and mom-time and being intentional about being present to the moment.
32:54 Ask yourself, "What kind of mom do I want to be?" or "What do I want them to remember?"
34:40 How to think about your child when they misbehave while you are working.
37:43 My daily luxury that I allow myself to have.
Resource(s) I Mentioned & Related Resources
My Interviewer: Ana Reisdorf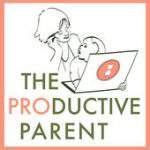 Ana Reisdorf's story is like that of many successful business women who later become mothers where parenting brings joy as well as a lost identity. The Productive Parent is the result of a serious crisis Ana went through after the birth of her son in 2015. After his birth, she pondered the question: "how can I maintain my sense of 'self' in motherhood?" She felt totally lost and didn't know who she was anymore. She didn't know how to consolidate myself as a mother with my old self anymore. Her intention is to inspire parents to recover themselves by hearing the stories, advice, and information of subject matter experts, many of whom are parents just like them.  Topics will range from fitness and food to time management and finances.
Back to you!
So what did you think? Did anything stick out to you from our conversation? I'd love to hear about it. Share in the comments or shoot me an email.
Thanks for listening!


Live Fully -- Love Openly -- Laugh Often -- Leverage Your Brilliance -- Connect Authentically -- Get Your Message Out -- Serve with Impact -- Prosper Everyday

P.S. Those two good looking guys in the picture with me are my husband and my son. 🙂