Many successful purpose-driven entrepreneurs are using social media, blogs, articles, webinars, and other on-line marketing tools to gather their community and share their message with their ideal clients.
Are you?
When I talk with coaches, authors, health practitioners and speakers they often have one thing in common. 
They  frequently express is that they don't know how to authentically and effectively use social media or content marketing.  They get stuck and often have not seen the results that they would like.
That's why I am joining Mike Rafati and 14 other experts to share my secrets about social media and content marketing. 
Register Free now – http://steph.bz/smcsummit
This summit was made for you and your solopreneur service business and is all about helping you become more visible and attract your ideal clients and ideal JV partners online, and it is filled with heart-centered online marketing strategies and tactics, so you can get big results from your efforts and attract an endless flow of clients.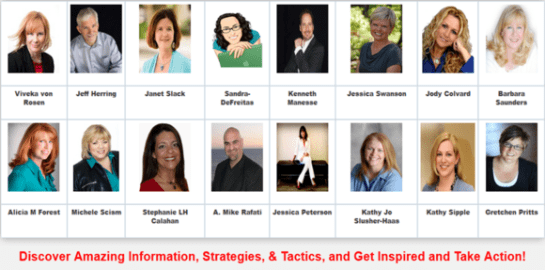 Grab your spot now – http://steph.bz/smcsummit
I'll be talking about how to Grow Your Business and Boost Your Visibility Through Strategic Partnerships Using Social Media.  I'm looking forward to this because I have met well over 85% of my strategic partners on social media.  If you have specific questions you'd like to make sure I ask, share them in the comments below.
P.P.S.  Share the love and forward this or click the share buttons below!   http://steph.bz/smcsummit
Live Fully -- Love Openly -- Laugh Often -- Leverage Your Brilliance -- Connect Authentically -- Get Your Message Out -- Serve with Impact -- Prosper Everyday