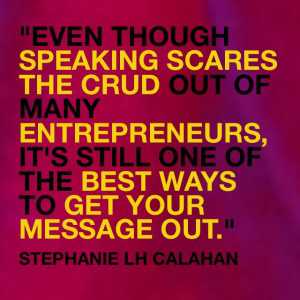 Even though speaking scares the crud out of many entrepreneurs, it is still one of the best ways to get your message out.  In the past, there was really only one way to get in front of an audience — speak on stage. 
I have been speaking in public since I was in elementary school (I took pubic speaking in 4-H and even got a blue ribbon at the state fair) and I've been performing (singing/dancing) since before that. 
Professionally, I have been speaking since 1994, leading big and small workshops and giving keynotes on a number of different topics.   A lot has chaged over the years!
Today, there are many different ways to speak and share your knowledge:
Speaking to live audiences on stage
Teleseminars
Webinars
Google+ Video Calls and Hangouts on Air (HOA)
Skype Meetings and Video Calls
Live Streams
Radio and Podcast
When I'm working with my private clients, we often have an element of their private program that includes a strategy for them getting onto more "stages."  Here are 8 ways that you can get more speaking gigs/engagements.
1 – Update Your Profiles
The bio/about space on your social media profiles is valuable real estate!  Make sure to say "speaker" in your Twitter, GooglePlus, Facebook, LinkedIn, Pinterest, etc. profile.
2 – Announce Your Speaking Engagements
Let people know about your speaking engagements before, during and after the event.  If others are sharing about your speaking, make sure to share that too.  (social proof)  Places you can share:
Social media
In your blog
On a media room page
In your newsletter
In the signature line of your email
On the sidebar of your website
3 – Reach Out to Event Producers/Hosts and Offer to Speak
Take time to research upcoming events and contact the event producer/host to see if they could use your help.  You can offer to be a speaker, emcee, moderator of a panel or panelist. 
4 – Reach Out to On-line Producers and Offer to be a Guest
There are thousands of telesumits, webinars, GooglePlus Hangouts, radio interviews, and podcasts that happen every day.  Get connected!  Reach out to the producers of these events and offer to speak. In a future post, I'll share some spots you can research for online/telesummit events.
5 – Talk to Local Groups
There are always local groups, service organizations and professional organizations that are looking for speakers.  Research your local area and contact the meeting planners and offer to speak.
6 – Take and Use Pictures or Video of You In Action!
When you are speaking, ask someone to video or snap pictures of you in action.  (Sometimes the event coordinators will have a photographer/videographer, but you'll be able to get the news out faster if you have images you own.)    Then, share them all over social media and your own blog or newsletter. Make sure to add comments with the images for more engagement.
7 – Take and Use Pictures of You with Participants
Consider taking pictures with event participants.  Interact!  Build relationships. Let them know that you will be posting the pictures on your Facebook page or in a Google+ album and invite them to tag themselves.  When they do, the picture will be shared with their tribe.
8 – Host Your Own
Start a podcast, host a telesumit or a live event!  I've gotten some of my best speaking gigs by people finding my podcast and asking me to do more.
Your Turn!
What things have you done that have helped you get more speaking engagements?  I'd love if you would add to the conversation below.
Live Fully -- Love Openly -- Laugh Often -- Leverage Your Brilliance -- Connect Authentically -- Get Your Message Out -- Serve with Impact -- Prosper Everyday