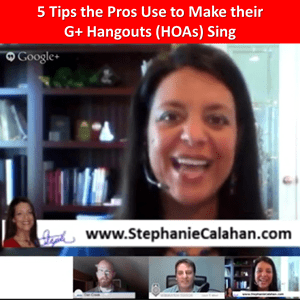 Have you heard about Google+ Hangouts (video calls) and wonder what it would take to really make it work in your business? 
I love teleseminars and webinars, but being a guest or hosting your own hangout program is a great way to get your message out in a much bigger way! 
There are some simple things that you can do to get really great results using this technology.
So, to get you started, I'm sharing 5 quick videos that will give you some getting started basics.  The videos are sponsored by the Hangout Marketing Challenge and all five videos can be watched in under 7 minutes!
Tip Video #1 How to Look at Your Screen
(1 minute, 19 seconds)
Tip Video #2 How You Connect Matters
(1 minute, 24 seconds)
Tip Video #3 Close Unnecessary Programs for Better Video Resolution
(1 minute, 14 seconds)
Tip Video #4 Webcam Recommendation
(1 minute, 24 seconds)
Tip Video #5 Turn the Lights Up!
(1 minute, 16 seconds)
Your Turn!
In the next few days I'll be sharing some great resources and interviews with hangout pros.  I hope that you will join me in participating. 
What do you think?  Are hangouts something you want to incorporate into your business?  Have you participated in hangouts (aka HOAs)?  What did you think?
Until we talk again
Get Your Message Out!
Live Fully — Love Openly — Experience Your Truth — Serve with Impact — Prosper Everyday
Until we talk again
Live Fully — Love Openly — Experience Your Truth — Serve with Impact — Prosper Everyday
– See more at: http://www.productiveandorganized.net/2013/08/8-ways-to-help-everyone-you-come-in-contact-with-feel-important-special-and-loved.html#sthash.2cq5KRnP.dpuf
Stephanie – See more at: http://www.productiveandorganized.net/2013/10/perspective-it-can-completely-change-your-results.html#sthash.Xdms65Nq.dpuf
Live Fully -- Love Openly -- Laugh Often -- Leverage Your Brilliance -- Connect Authentically -- Get Your Message Out -- Serve with Impact -- Prosper Everyday