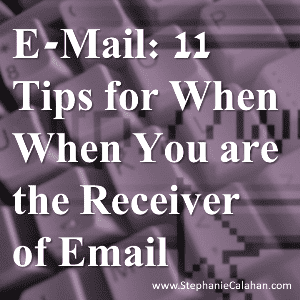 Computers have made our world a much more information rich society, but they have also created so much information that it is sometimes hard to track it all.
Most business owners average about 100 pieces of e-mail per day!
Additionally, according to the National Association of Professional Organizers, e-mail has added one to two hours to each person's work schedule per day compared to 10 years ago.
Here are a few tips to lighten your in-box.
1. Do Your Other Work First – Try not to open your e-mail first thing in the morning! Complete your other important tasks before opening that in-box.
2. Turn off the "You've Got Mail" Bell/Notification – Constant interruptions with the e-mail notification sound make it difficult for anyone to complete other tasks.
3. Take Control of Your Email – Don't let email control you. Unsubscribe from lists that you no longer want or enjoy. Don't let your email pile up. It will become a chore to go through it all at once.
4. Delete all Unnecessary Mail – Old messages congest servers. Delete old, duplicate or reply version copies and free up space for new incoming mail.
5. Ask Before You File – If you cannot answer the question, "When will I need to reference this email again?" then delete.
6. Organize Your E-Mail into Files – Set up folders in your e-mail program so you can sort incoming e-mail. You could sort by what you have to do, who it is from (such as your vendors) or subject.
7. Use Rules/Filters – Rules/filters allow you to have your computer process some of the email for you. Here are some of our favorite uses for rules to get you started:
 Pre-filing into appropriate folders
Sounding an alarm when an important subject or person is identified
Setting a red flag (or any other color) when a certain key word is used
Dumping all of the jokes and chain-letters into a "someday when I have time" folder.
8. Auto-responders to Save You Time – Use auto-responders to offer frequently requested information. These e-mail settings will automatically respond to the sender with a pre written message. They are often used for brochures, price lists, directions, etc.
9. Use a Bounce Back Message to Deter Unnecessary E-Mail – Send an automated message to the sender of the e-mails you receive saying that you do not check e-mail often and to call if the matter is important or urgent.
10. Preview Messages – Use your preview pane in your listing view to read messages without opening them.
11. Incorporate into Your To-Do List – As you review your e-mails, update your to-do list with the action items you have as a result.
By managing your email, you ultimately manage your time. I encourage you to not let your email control you. You Control Your Email!
To your success!