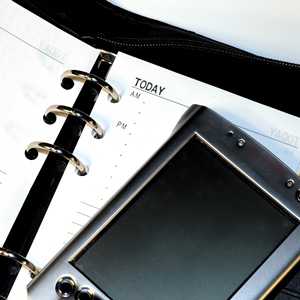 Keeping your day on track can often times be a challenge in today's schedule hectic environment.Sometimes it is difficult to figure out how to fit it all in.
We have provided 7 tips for you to use to make your day go smoother.
It Only Takes 10 Minutes! – Take just 10 minutes to plan each day. You'll be amazed at how much more you will accomplish! You can either plan the upcoming day at the end of your day, or you can start your day with a good 10 minute planning sessions.
One Calendar Please – Use only one calendar for scheduling, recording appointments and special dates. The only exception is a family calendar (usually kept on the fridge). Be sure you keep the family calendar up-to-date with the one you carry!
Don't Let Others Run Your Day – To avoid others running your day, take just 10-20 minutes to plan and prioritize your day. This way, when you have interruptions, you will have a task to fall back on rather than returning without a plan.
Schedule Right Away – When you are at a recurring appointment make your next appointment before you leave. This saves a phone call later and ensures you get an appointment at a day and time convenient for you.
Beat Procrastination – Break big projects into little bite-size pieces so it is not so overwhelming. Look at a 5-hour project as 5 one-hour projects or 10 half-hour projects.
Leave 25% of Your Day Free for the Unexpected – Leave at least 25% of your daily schedule, free for the unexpected. You never know when something important will come into your day.
Are You Overloaded — Cancel Most of Your Day – If you are feeling overloaded then cancel every appointment except for the 3 or 4 most important activities on your calendar.
Pick 1 or 2 of the tips above and put them into practice right away. You will be pleased with how much more you can get done in your day.
What tips do you have?
To your success!