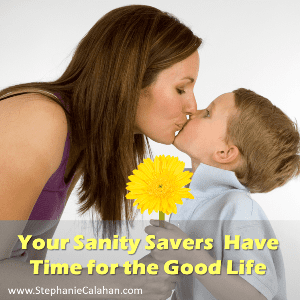 How do you define the GOOD LIFE?
Do you have enough of it in your day? Most people would say that they don't.
Interruptions can be a huge time waster! Today there are more ways than ever to get interrupted, someone at your door, phone, cell phone, text messages, email, Facebook updates and more.
Gain control of your environment by practicing some of these tips. The following tips will help you gain control of your time and your sanity!
Make Appointments With Yourself – Make appointments with yourself to work on a project that is important to you. Make this your 'me' time. Try to do this weekly, if not daily. By actually putting the activity on your schedule/planner/calendar, you are more likely to actually do it.
Make Strong Use of Memory Joggers and Reminders – Lists, notes, alarm clocks, software with reminder functionality all are valuable tools to help you stay on task. Use them as much as possible.
Schedule "Office Hours" and Stick to Them – At work, establish office hours where you openly accept visitors and co-worker questions. If anyone unexpectedly drops by, reschedule them for your office hour time when possible. Eliminating unnecessary interruptions helps you maintain focus and get work done efficiently. Now, I understand that some may say that this idea is too restrictive and does not allow for an open-door-policy. I disagree. If you make sure to provide ample time for others to get in contact with you then you are available. You can always make concessions if the issue is an emergency and you might even be surprised at how many issues solve themselves if you are not there every time.
Do You Have Time for Interruption? – When you are interrupted, ask how long the interruption will take. Depending on the answer, determine whether you reschedule or handle it at that time. Explain that you are focusing on a project that takes deep concentration and that you don't want to loose your "groove." Most people will appreciate where you are coming from and be happy to come back at a more convenient time.
Could Someone Else Handle It? – When you are interrupted, ask if you need to be the one to handle the issue. If not, delegate the job/concern to someone else.
How do you handle interruptions? Share your thoughts! The more we can help each other the better! I get interrupted too and I'd love to hear new strategies. By having a solid plan for how to handle interruptions you allow your projects the time and focus they deserve.
To your success!