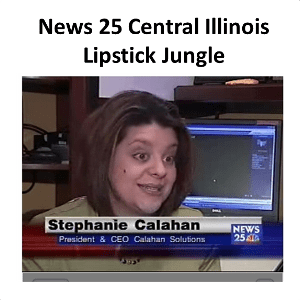 A few weeks ago I was contacted by Jenny Li of NBC's WEEK News 25. She told me that they wanted to do a local story tagging off of the new NBC show "Lipstick Jungle." Would I be interested in being featured? Could she come to the house to do the interview?
What was my response?
Utter panic! Hey, I am human after all.
Wouldn't you if a reporter was coming to your house with a cameraman?
The topic was one I am quite passionate about though, so I told her I would be happy to help her with her story. So, Jenny and her camera man came over and we did the interveiw. They were both awesome. Jenny even sat with Danny (my puppy – he is a bit of an attention hog) while she did the interview.
Promo Materials on the Story
Jenny wrote a number of promo stories to lead up to the 10:00 pm news. Here is one of them: Feb 7, 2008 at 11:57 AM CST Here is the video clip that ran earlier in the day. Wow! I have a lot of facial expressions!
Here is what ran on the mid-evening news: Feb 7, 2008 at 7:54 PM CST
Central Illinois Women Relate To The Lipstick Jungle
Here is the full story and video. You'll have to watch a 15 second commercial before you see the segment. If you like it, mark it as a favorite on the WEEK site!
I let my son stay up and watch the 10:00 pm news so that he could see himself on television, and he was amazed. He was so excited that his face showed on the screen 3 different times. Then, of course, he asked when he could do it again! No time soon honey, no time soon…
So Back to My Original Question
What would you do if a reporter showed up at your door?
What about a friend you have not seen in a while?
What would your response be?
Share your thoughts in the comments section at the end of this blog posting.
To your success!