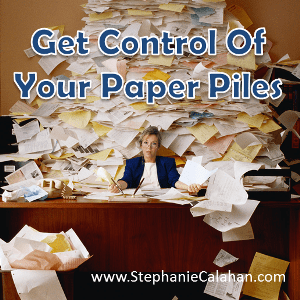 This week, Jennifer from Knoxville, Tennessee wrote us with a paper and space question:

Hello. My parents are owners of a restaurant and I believe we have outgrown our little building how can we organize our paperwork to give us more room and to keep our bills and receipts in order?
Jennifer: This problem comes up at least once in the life of every small business. Here are some things you can do to fight the mounding piles of paper:
Decide to Decide!
You have to stop thinking that you don't have time to organize. Remember that the process of organization only becomes more difficult in time because clutter accumulates. A task that may take you only an hour to do may take you days if you let everything pile up.
In her book, Taming the Paper Tiger at Work, Barbara Hemphill reminds us to look at the paper in our office by what we need to do with it. Whenever you receive information, ask yourself if it requires any action. If it required action, file the document and include it in your files that need urgent action. Otherwise, toss it in the wastebasket.
After an action has been done, ask yourself if the file will be important for future reference. If so, file it in your cabinet. Otherwise, toss it.
Start with an understanding of what you must keep.
Getting organized is not an easy task. Everyday, you are forced to deal with mountains of paper that contain both crucial information and useless garbage. Although paper can serve a great purpose, a huge amount of it can literally wreak havoc and harm productivity. It is important to know the difference.
While there are some keeping, your rules are going to be different for each type of business. Start by talking with your accountant about the papers you MUST keep in order to have proper tax records. Normally, 80% of what we keep we don't need and will never reference again. By knowing what you MUST keep, you will eliminate the space you need to take.
The Mechanics of Filing Paper
Although everyone knows that filing cabinets exist, few have tried using them. Even fewer use them effectively. Look around your space. Do you have a few 2-drawer file cabinets with wasted space above them? If so, consider getting 4-drawer file cabinets that double your filing capacity without adding extra footprint space.
Pulling at every drawer of your cabinet and rifling through each folder to find the information you need is a tedious task. One way to resolve this is to devise your very own file system. One of my favorites can be found here: Paper Tiger
Maybe Consider an Electronic Scanning System
When space is limited, another great option is to go digital! The IRS now approves electronic images for tax documentation, so there is no legal reason to keep most papers. (Note, there are contracts, etc. that you would still want to keep in original form, but not many!)
I love the Neat Company and their various product lines. I've been using their products since 2007 and love them so much that we became a reseller. Here is a video on one of their newest scanners (along with great finding technology on your PC or Mac!) If you are interested in considering this type of technology, Email Me and I'll be happy to help you figure out which model is best for your situation.
Comment and Share!
I know you have some great ideas for Jennifer her family business too. Please leave your comment below. Like what you've read? I'd love it if you would click the ShareThis link below and share this post with your social networking friends.
Live Fully -- Love Openly -- Laugh Often -- Leverage Your Brilliance -- Connect Authentically -- Get Your Message Out -- Serve with Impact -- Prosper Everyday

Disclosure: Some of the links on this page are affiliate links. That means that I may get a small thank you commission (at no additional cost to you) if you choose to purchase a product from the company mentioned. I only refer you to programs that are ran by people I personally know or I have participated in, but please use your judgement to decide if this is right for you. If you would prefer that I not get that, feel free to Google the company and purchase directly.