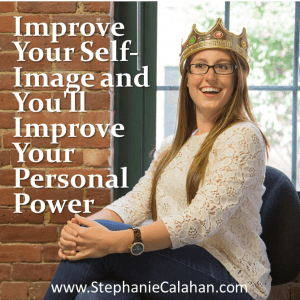 PERSONAL POWER!  In order to get it, you have to understand the success cycle.
Your thoughts and emotions control your behavior which in tern controls the results you experience.  All of those things directly and indirectly impact your self-image. 
So, are you working with a positive self-image?  Today, I'll talk about six steps you can take to impact your personal productivity power.
Know Yourself
This sounds so simple doesn't it?  However, many of us spend years of our life not really knowing who we are or why we are doing what we do.  We are, in essence, just going through the motions.  Stop and take stock of where you are in life right now.  What do you believe in?  What do you stand for?  What will you not put up with?  What defines you?
Maintain Your Integrity
Once you know for sure who you are, make sure that everything that surrounds you represents the best parts of you.  Are you participating in activities that are true to who you are, or have activities and groups found their way into your schedule that do not really represent the real you?  Review where you are spending your time and focus.  Get rid of the activities and projects (and sometimes even people) that don't fit.  Add in those things that do fit.
Inspire and Then Push Yourself
Now that you know who you really are and have made sure that you are focusing in the right spots, create motivation!  Post signs in easy-to-see locations.  Get an accountability partner or friend that will keep you going towards your goals.  Hire a coach that can help you make the most of your vision.
Do Not Fear Failure
So often we choose to not try something, because we are afraid to make mistakes. I see it all of the time when working with clients.  Clutter will accumulate, because it is easier to let it accumulate than to risk making the wrong choice.  Those that I coach will initially chose to do nothing rather than take action for fear of being wrong.  Work on eliminating your fear.  Be on the look out on Monday for an amazing guest post on fear and how you can overcome it. 
Take Care of Your Physical and Mental Health
Your physical and mental well being are crucial to your success.  So often we put off taking care of ourselves because we are focused on other things.  The reality, however, is that if we are not well, we cannot put our full attention on other things.  In fact, if we are struggling to feel well, our focus is impaired at best.  You are important and your health is too.  Give it a high priority.
Set Boundaries
Do you say "yes" to everything, because you don't want to disappoint someone with a "no"?  Do you let other people encroach on your time when you had planned to work on an important project?  Being open and available is an admirable trait, but if you push it too far, you become a door mat!  When you respect yourself, you also respect the time you have allotted to yourself and your priority items.  Be careful to not let other's fires become your emergency.
Comment and Share!
What do you think?  What is your formula for personal productivity success?  Do you find any of the suggestions above hard?  What else?  Let's have a discussion.  Tell me what you are thinking below in the comments section.
Live Fully -- Love Openly -- Laugh Often -- Leverage Your Brilliance -- Connect Authentically -- Get Your Message Out -- Serve with Impact -- Prosper Everyday