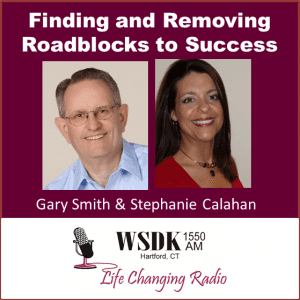 Recently  I had the pleasure of going on the Gary Smith show and talking about how to recognize and remove blocks to your success and we specifically talked about visibility blocks.
Since his show airs in Connecticut, I asked him if we could have a recording so that you could listen in too!  The following recording is from that show.
I'd love to hear what you think and if you'd like some help with your visibility blocks, let's talk.
03:56  Beginning of Interview
04:48  Introduction to Stephanie
05:50  What a visibility block is and why we'd want to get rid of it
07:10  Common visibility blocks
08:41  A bit about Stephanie's background and how she found visibility blocks
12:33  How your core beliefs tie to your results
15:00  Stephanie shares how visibility blocks may be hiding in plain sight and an example of one of her blocks
23:52   How to take action and remove the roadblocks
30:05  Why alignment is important to the process
34:20  Why coaches can help you see your blind spots
38:11  Do we ever really get rid of our visibility blocks or as we remove them, do we uncover others?
41:59  Process to clear your blocks – energetic hygiene
46:50  Questions you can ask yourself to be able to move forward
50:00  Words of encouragement
Live Fully -- Love Openly -- Laugh Often -- Leverage Your Brilliance -- Connect Authentically -- Get Your Message Out -- Serve with Impact -- Prosper Everyday