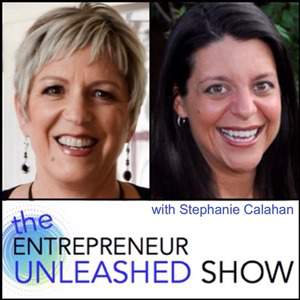 If you have ever been interested in hearing entrepreneur back stories and behind the scenes challenges and successes you may love Patti Keating's The Entrepreneur Unleashed podcast. She and I chatted about my
inspiration for starting Calahan Solutions, Inc.
biggest challenge early in my business
passions and why I do what I do
living your fullest expression of your life and being purpose-driven
Media Type: Audio Podcast
Length: 23 minutes
Listen Now!
Cost:  no cost, just click play!
Resources I Mentioned on the Show
Influence – The Psycology of Persuasion Robert Caldini – Amazon Link
Content Warfare Podcast with Ryan Hanley
On Track Tips – Strategy Development for Small Business with Jason Wiser
Breakthrough Business Strategies with Michelle Price
My Interviewer:
Life long entrepreneur, Founder of The Entrepreneur Unleashed, host of The Entrepreneur Unleashed Show, Patti Keating is a Mentor and Strategist for purpose driven entrepreneurs. She creates educational programs for entrepreneurs and small business owners to help them leverage their purpose and passion into revenue streams. and shows them how to incorporate a solid action plan into their businesses to make more money and live life on their own terms. The show explores the entrepreneur journey to living on purpose; taking a stand and changing lives.
If you enjoyed the episode, I'd love your help spreading the word! Share it on your favorite social media site. Thanks!
Live Fully -- Love Openly -- Laugh Often -- Leverage Your Brilliance -- Connect Authentically -- Get Your Message Out -- Serve with Impact -- Prosper Everyday