Live conferences are a fantastic way to gain actionable knowledge for your business, rekindle former relationships and make new relationships. They also represent a significant investment in time and money.
Yet, many people don't take advantage of the investment like they could. Today I share tips for how you can triple your results from attending live conferences and events.
Before I go into my tips, I want to come clean a bit. You see, while I really love getting up on stage and sharing my message, I get really uncomfortable off of the stage.
I'm what you might call an extroverted introvert. Once I get to know you, I'm comfortable and in some instances you can't shut me up! However, it is really difficult for me to walk up to people I don't know and inject myself into a conversation. In fact, it is downright painful.
The tips I'll share today have helped me to bridge that gap and jump it into overdrive.
Start Connecting BEFORE the Event
Many live events now have Twitter hashtags or Facebook groups or pages for people going to the event. Get active and visible on social media before the event and start having conversations.
Note: Not everyone looks like their profile picture, do you? If you don't fix that now. Make sure when you go to the event, people can recognize you. You'll be amazed how many will walk up to you and start a conversation.
Pre-Plan Your Networking
Seriously, do some prep. Think about the people you want to meet at the event. Create a prioritized list of people you want to make sure to talk to at the event and what you want to talk to them about. If you don't know much about them, do some research on them and find their picture and memorize it.
You might even consider reaching out to some of the people on your list prior to the event and letting them know you'll be going and that you would like to have the opportunity to talk with them. I've tagged on extra days for robust discussions by planning ahead in this way. Plus, if you are like me and don't like inserting yourself into a group at a lunch break, you can get your meals lined up ahead of time.
Make Sure You Pack Business Cards
I realize that this sounds like networking 101 basics, but I'm amazed at the number of events that I go to where people forgot their cards. Bring them!
Consider putting your picture somewhere on the card and a reason for people to go to your site. I have a card that my wonderful designer created specially for conferences. When I tested it, I was amazed to find that having my picture on the card, significantly increased people's ability to remember me later when I followed up. The picture below was our first stab at the back of the card. Now that I have used it a while, I'll be streamlining it even further, but it has worked great for me.

Have a Follow-up Plan
Many very skilled conversationalists fall down with the followup. I know! I've seen the piles and piles of business cards in people's bags and desks. Before you ever go to an event, know what you are going to do with the cards that you get. Have a plan and if you need some help figuring it out, let me know I'd be happy to help you get that system in place. The dollars are in the follow up!
When You are at the Event, Attend the Sessions
While live events are really great for networking, make sure you are attending the sessions and hand writing as many notes as you can! There are always some people that go to events and hang out in the halls talking to others. While you can gain from being a part of these conversations, you can gain even more by being in the room. The people that are actively working to improve their business are attending the sessions. To take advantage of the networking opportunity, change where you sit every day so that you can meet new people.
Hand-Write Your Notes
When you hand-write notes they will stick in your mind longer and stronger. As you are taking notes, write down all of the important points, even if you already know them. Use your words though. Rather than copying down slide content, write down the key points as well as your action items. The purpose of taking notes is to be able to recall and act on the information later.
Process Business Cards Right Away
When you get someone's business card, take the time to write on it or use my favorite tool the Contact Keeper to track your conversation. Have a system for ruling out cards that you won't want later. Make sure to note any action items as a result of your conversation.
Drink LOTS of Water
It is easy to get dehydrated at conferences and events. When you are dehydrated, your brain gets foggy and you can't process as well. Rather than soda,coffee and alcohol, make sure that at least every other drink you pick up is good ol H2O.
Get Visible – Take Pictures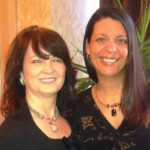 I have to admit, I'm not good at this one — I rarely think of it and then get self conscious when I ask … However, I have observed this technique work really well for a number of my colleagues. (If you ever see me at a conference, please do me a favor and ask to take a picture with me!)
Pictures can be used immediately on social media sites to get you extra visibility and they are fantastic to have in your digital library for when you end up doing a joint venture with someone. For example, the picture to the right is of Georgina Sweeney and me. We met face-to-face for the first time last fall at a live event. When I took the picture, I did not know that we would be working together. Later, I used this photo in an interview invite as part of the marketing.
Quick note, try to remember to take off your event ID lanyards, tags, etc. It makes for a nicer picture.
Get Visible – Use a Twitter Hashtag if Available
More and more I see a sub-culture of people at events. They are the cool kids that tweet during events. When a hash tag is offered for an event, share what you know open and often! By tweeting, you will find new people to connect with as well as share great information with your tribe. Everyone wins!
Caution with this one though, tweeting too much during an event and you lose the benefits of everything else I have mentioned so far in this post! Consider sending a few tweets during breaks of the hottest tips you learned in the previous session rather than tweeting the entire time. You could lose important points by focusing on 140 characters.
One strategy to tweet and share exposure is to take selfies of people you've met at the conference and tweet that out with the hashtag and the other person's ID.
Stick Around Until the End
I see it at every conference I go to. People cut out early and miss part of the event or, their notes go into their conference bag never to be seen again. Instead, stick around and soak up all of the good information being shared.
Create an Action Plan & Follow Up
If you really want a return on your investment, stay a little longer to process everything that you have learned and create a plan for what you want to do with what you learned. Many people jump back into their daily grind way too fast and don't afford themselves the opportunity to decompress and process. Identify everything you want to change, improve or remove in your business as a result of the days you invested in the live event.
Then, follow up right away! Remember, the dollars are in the followup. Since most people never do anything with the cards and conversations from a live event, you will stand out from the crowd.
If you follow these before, during and after secrets to live events you will be amazed at how much more you get done and enrich your business.
I hope I get the opportunity to meet you at a live event in the future. If you see me, please stop and say hello and let's make sure to get a picture together!
Live Fully -- Love Openly -- Laugh Often -- Leverage Your Brilliance -- Connect Authentically -- Get Your Message Out -- Serve with Impact -- Prosper Everyday