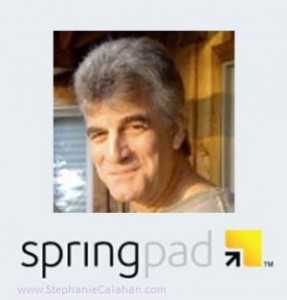 Information Overload is a topic that comes up frequently when I talk with people about what holds their productivity back. Many people have become "information junkies" collecting all kinds of information but not having it in a format that makes it usable. 
Jeff Janer and his team at Spring Partners saw that coming a few years ago and developed a great tool called Springpad.  Today I talk with Jeff and he shares some great insight on how Springpad could be one of your Powerhouse Tools.
Hello Jeff and welcome.  It's nice to have you with us.   You are the Co-Founder & CEO.  Tell me, what was the inspiration behind Springpad?
When we got started a couple of years ago, we noticed that it was becoming increasingly difficult to separate the "signal" – i.e., personally useful information that you weren't necessarily ready to act on right away – from the noise, given the explosion of websites from brands and publishers, new discovery services and the rapid rise of social media and the real time web. And, at the same time, people were increasingly starting to rely on their mobile devices for much more than making phone calls. So the inspiration was to give users a quick and easy way to save the ideas and information worth remembering; and to help them out when they were ready to take action.
There are a few different virtual/on-line data "warehouses" on the market.  What makes Springpad different from the competition?
We differ from what I call the "digital filing cabinet" solutions in the market in that we're not only focused on helping you save and access what you want to remember, but also to help you out when you're ready to take action. Save a restaurant and we'll add contact information, menu pages, reviews, a link to make reservations and we'll even notify you if there's a Groupon or Living Social deal for that restaurant. In short, our goal is to save you time and money when you're ready to do something with what you've saved.
Wow that is great!  So you are kind of like a virtual assistant, to do list and data storage tool all rolled into one?
Yes, we do think of ourselves as more of a personal assistant and not just a digital filing cabinet. And, given that tasks – be they to-do lists, packing lists, shopping lists, etc. – are an actionable extension of memory, we felt it was important to include task management features and functionality as a core component in Springpad.
Have you found a particular population of people that really use Springpad?  Who uses your tool and did you have a specific person in mind when you developed it?
Our primary audience generally breaks down into four segments: productivity types who use Springpad for task management and want to centralize and organize the notes, ideas and information they come across; foodies – both for recipes and restaurants; shopping – both for personal consumption and gift-giving; and media/entertainment – our users have saved hundreds of thousands of books, movies and music that they want to remember.
I see how that can work.  It is even part social network.  You have built in the ability to have both a public and private side to each account.  To see an example of a "public" view of Springpad, here is Jeff's.
Since my readers and listeners fall into that first group, the productivity types, can you give me a couple of examples of how someone could use Springpad to save time and be more productive?
Many of our users look to Springpad to organize and manage their home and work lives, including everything from hard core GTD'ers to task management to creating weekly meal plans, home inventory and class note. Here's a link to a blog post with further detail about how to use Springpad for productivity.  Also, in order to save time getting and accessing ideas and information in Springpad, we recently made introduced updates to saving via email, along with making it easy to access Springpad via RSS readers. You can get more detail here.
Can you really coordinate calendars using Springpad?  How does that work?
The actual coordination of calendars happens external to Springpad, but personal events and reminders set in Springpad can be automatically synced to iCal and Google Calendar. We have enabled feeds so that all Events, Alarms and Tasks can be sent to iCal and anything in that has a date on it can also be viewed in Google Calendar.
Any thoughts on integrating with Outlook?  ICal is great for Apple users and there are quite a few on Google, but the numbers are still staggering for the Microsoft Outlook user base.  (OK and yes, this is a biased question because I use Outlook!)
Integrating with Outlook is not on our near-term roadmap, as much of our user base is not on Outlook…but it is a request that comes up from time to time. If we see Springpad adoption start to significantly increase in the 'enterprise' workplace, I would imagine Outlook integration will move up the priority list.
Any other neat features my readers would like to know about?
Our goal is to make it simple for people save things whenever and wherever. We have a barcode scanner built into our mobile apps to make it quick and easy to save products – from a bottle of wine you want to remember to the latest 3D television you want to research later. We also have a feature called 'Look it Up' in both the mobile and web apps that not only helps you find what you're looking for, but also automatically adds useful information and relevant offers for when you're ready to take action.
As a lover of my iPhone apps, I know that you have an iPhone app.  Are you on other phone platforms? 
In addition to our iPhone app, we also have an iPad app and Android smartphone and tablet apps. We also have a mobile web app that's not as fully featured as our smartphone app, but it works with feature phones.
I know that it takes a team to make a great product.  Would you like to tell us about the people behind Springpad?
We have a small but very enthusiastic and experienced team who have been working with advanced Web and mobile technologies for many years. We also pride ourselves on communicating, getting feedback and responding to our users; and our community manager and customer support are a major contributor to our success.
I see that you have a partners program too that somehow integrates bloggers to Springpad.  How does that work?
We have partnered with more than 50 food bloggers to help them "database" and share their recipes with their readers and the Springpad community by making it easy for them create Springpad public profiles and populate them with their recipes. Other bloggers who might review or recommend products, places and/or books, movies and music might also find a Springpad public profile to be useful for their readers.
Great, so how can people get started and what is the cost?
There's no cost; and if anyone wants to learn more, they should contact us at [email protected]
I know my tribe of entrepreneurs and independent professionals and I know they love to hear stories from the trenches.   As a business owner, what is one of the biggest challenges you have faced and what did you do about it?  Any big lessons learned?
Generating awareness for a consumer app without a big marketing budget is definitely a challenge. To this end, the app stores (iOS, Android and the Chrome Web Store) have been a very cost effective means of creating awareness for Springpad, based on our being highly ranked in the stores. This has entailed a fair amount of business development, but the return – i.e, being featured in the app store – is well worth the investment. In order to support a high ranking in the app stores, we've also made sure that our product releases are timed to coincide with major Apple and Google OS upgrades; and we've focused our PR and community management efforts on highlighting and supporting these product launches. 
I have heard that you have used some unique ways to get the word out about your product.  Care to share a few examples?
We've been successful in spreading the word about Springpad through a combination of 'traditional' marketing and communications (some advertising, PR, e-newsletters and trade show participation) along with an active community management program (that includes bi-weekly Twitter 'focus groups') to help create awareness via word of mouth. On occasion, we have also created blog-related promotions to feature our partners and engage their readers (e.g. we ran a "Springsgiving" program last Thanksgiving to have our users and our food bloggers' readers vote for their favorite Thanksgiving recipes submitted by the food bloggers). 
How can our readers get in touch with you?
To find out more about Springpad – follow us on Twitter  or visit http://springpad.com
I can be reached via email: [email protected] and on Twitter
Jeff, thanks so much for taking the time to talk with us today!
Live Fully -- Love Openly -- Laugh Often -- Leverage Your Brilliance -- Connect Authentically -- Get Your Message Out -- Serve with Impact -- Prosper Everyday