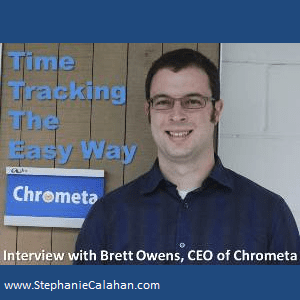 The question of "Where in the world does my time really go?" is often asked by frustrated business owners.  You work hard and it seems that there are never enough hours in a day. 
This gets even more complex if your business uses time tracking to bill clients.  I remember the first time I was told I needed to track my time in 15 minute increments – we called them units.  It was back when I worked for a large consulting firm.  I thought the idea of tracking my time to that detail was crazy!  Yet, I quickly learned that it was critical for client billing.  I had no idea how I was going to do it.
My first step was to talk to my manager and my in-house coach to see how they tracked their time.  Both had systems, but they weren't really all that reliable.  They both admitted that there were times that they did work, but it did not get billed and that sometimes they "fudged" with their tracking.  That did not feel good to me then and it still does not now!
In comes Brett Owens and his team from Chrometa.  They decided to do something to make it easy for you to track and answer the question "Where did my time go today?"
Hello Brett and welcome.  It's nice to have you with us.  You are the CEO of Chrometa.  Tell me, what was the inspiration behind Chrometa?
My good friend from college, Adam, was and is a practicing attorney in Washington, DC.  He called me up in February 2007 and said he was going to Lake Tahoe skiing the following month – so I drove up from Sacramento and met him for a day of skiing.
In between runs, we were chatting about business ideas, and he shared his vision for an automated solution that'd capture all of his billable time for him – he hated tracking it manually!  I liked the idea and thought it was something we might be able to build.  So to this day…we lay the blame for Chrometa at Adam's feet 🙂  (He actually became an Advisor to Chrometa in 2008, and still works with us today)
Care to tell me a bit about the team behind the product? 
I co-founded Chrometa with Chihab Bahhadi, our CTO, who I worked with in my previous job.  Late last year, my friend, Carson Gross, joined our team as our lead integrations engineer.
So, who uses Chrometa? 
Professionals who need to keep very close track of their time – usually for billing and/or project tracking purposes.  Our product is very popular with solo and small firm lawyers, consultants, freelancers, CPAs, engineers, and entrepreneurs.  Anyone who has to keep very close track of their time knows what a pain it can be!
I love how webworkerdaily described Chrometa:
Most time tracking and management applications require some up front work before you can roll with them, but not Windows app Chrometa. This utility starts working for you as soon as you install it. Running in the background, Chrometa tracks all your computing activities including emails, visits to web sites and open applications. It sorts the activities by application or tool and does it all without you needing to do a thing.
Can you talk to me a bit about privacy of my information?  How do I know that activites are secure?
Sure thing – your information is stored securely on Amazon's S3 servers.  We use HTTPS encryption to ensure that traffic is secure (in layman's terms, this is what on-line banking uses).
The only person who can access your account is you – so as is usually the case, make sure you have a secure, unique password.
I love that the tool tracks everything, but sometimes my clients need to be able to take that data and use it in different ways.  Can users of Chrometa download the time results data to other applications like Excel?
Yes, you can export the data to Excel, or to popular third-party applications such as FreshBooks and Basecamp.  We also have an open API for folks who are technically minded (like yourself :)) – details here: https://app.chrometa.com/developers
What if there are programs that someone does not want to track?  For example, maybe I don't want to track when iTunes is syncing my phone.  I can't bill a client for that and it is not taking away from my productivity.  Is there a way to have the tool ignore certain activities?
Yes, you can create Rules to delete certain time entries (they can be based on Application and/or Keyword, for example).  Some of our users like to ignore activity in certain browsers, which they use for personal browsing, for example.
What is the most surprising thing you have heard Chrometa users tell you they have learned by using the tool?
Everyone is always surprised to see how much they jump around during the day – for me personally, this was the most eye opening.  And I hear it all the time from folks.
While it's initially a bit jarring – you think "I can't concentrate on anything!" – it actually turns out to be a helpful fact…because now that you know about it, you can focus on working a bit longer without interruption.  And since you know you have a lot of room for improvement, you'll inevitably get better at focusing for longer periods of time – and become more productive.
I LOVE that!  I find that my clients experience similar things when they track their time, but Chrometa just makes it that much easier to do.
As I get more ingrained with my iPhone I find that I'm doing a lot of work (even editing videos) right on the phone.  Can Chrometa track that time too?
Not currently, but stay tuned.  Mr. Jobs has historically had the iPhone on a bit of lock-down, limiting what products like ours can track in the background…but we anticipate this will eventually be possible.
Right now your tool is Windows based.  Any plans for a Mac version?
Good news – our Mac version is here!  You can download it at https://app.chrometa.com/welcome
Fantastic!  I know that my Mac users will be happy to hear that.  So how can people get started with either version and what is the cost?
Visit our website at https://app.chrometa.com/ and hit Download – you'll be up and running in a few minutes or less.  You can use Chrometa in for a trial first – after that, plans start at $19/month per user.
Also our desktop-only version, which previously sold for $99, is now free – when we launched our new product, our business model shifted, and we just decided to make our older product free.  Here are the details on this, as covered  by LifeHacker – http://lifehacker.com/5760562/chrometa-time+tracking-software-now-free-previously-99
My tribe loves to hear stories from the trenches.   As a business owner, what is one of the biggest challenges you have faced and what did you do about it?  Any big lessons learned?
We've learned that it's very challenging to build a new product from scratch – especially when you take an entirely new approach to solving a problem.  You have no idea if what you're building is going to be useful to anyone.  Sure, you can talk to people – but that only goes so far.  The old saying from Henry Ford is that if he asked consumers what they needed, they'd have requested a faster horse!
What greatly helped us was shipping "early and often".  Our very first product, Chrometa 1.1, was a bit of a piece of crap…but we needed validation that people would pay money for something like this, so we "shipped" it! 
Once we got validation, we used feedback to build our next version – which was a much better product.  We also gave our 1.1 users free upgrades as a thank you 🙂
You have gotten some nice media attention for your tool.  What has been your most effective marketing/PR tactics?
We try to connect with bloggers and journalists who have written about similar themes and products.  For example, if I see an article on small business accounting, I may reach out to the author to intro Chrometa, so that we're on his or her radar screen for a future story.
How do you and your team stay on track and make sure you are working on the right things?
Good question!  We're always prioritizing – you can only work on one thing at a time, and when you are small, you have to be smart in determining what that one thing is.  There are enough "to do" items to keep us all busy for the rest of our lives – but do they all matter that much?  That's what we try to constantly ask ourselves – what's the one thing we could do right now that'd give us and our customers the most benefit.
I love that question.  It really helps you stay focused I'm sure.  Any favorite productivity tools that you use? 
We use Basecamp for our project management – I'd highly recommend it for anyone who needs a simple, no frills collaboration app.  It's perfect for us – we use it to coordinate our development efforts.
I have used Basecamp for a number of projects and others have recommended it here on Productive And Organized too.  Great choice. 
What's a simple activity that consistently makes you or your clients better?
At Chrometa, whenever we do a task manually, we try to ask ourselves if it can be automated.  Rather than manually do something over and over again, it's much better to setup software that can do the grunt work for you.
This is exactly what we strive to do for our customers – instead of manually reconciling your time, we want Chrometa to do all of the busywork for you.  So that, instead of spending 10 hours a month, you only spend a few minutes a week reconciling your time.
That is great Brett thanks for giving my people a great value!   How can our readers get in touch with you?
You can learn about Chrometa and see tutorial videos right on our site http://www.Chrometa.com or the best way is to shoot me an email – I'm usually wired all day – at [email protected]
Brett, thanks again for taking the time to talk to me and answer my questions.  This has been fantastic.
All – If you would like to see Chrometa in action, take a minute to watch this short video.
How to Capture Your Time Automatically With Chrometa from Brett Owens on Vimeo.
Your Action for Today
It is amazing how we sometimes mis-evaluate the time we spend on things.  I have many clients that come to me for time management enhancement work.  We often start by getting a good understanding of where their time really goes.  Most of the time they are amazed and enlightened by that one simple activity.  You could be too.
Go out to Chrometa's site and sign up for their trial and try it out.
You may find that you are spending way too much time playing games on Facebook or watching non-billable (non profit making) videos on YouTube.
Or, you may find that you have been spending time on work that you have not charged for.  Maybe that report or email reply that you work on tomorrow that you thought took 15 minutes really took 2 hours.  Or maybe that logo design that you thought you spent 2 hours on–you really spent 4. 
Wouldn't you rather know?
Live Fully -- Love Openly -- Laugh Often -- Leverage Your Brilliance -- Connect Authentically -- Get Your Message Out -- Serve with Impact -- Prosper Everyday