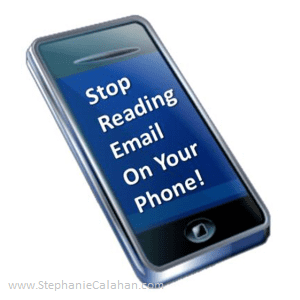 Just because you can do something does not mean that it is a good idea to do it.  Maybe you would be more productive if you stopped reading your e-mail on your phone.
Don't get me wrong, you know from reading my blog and listening to my podcasts, I LOVE technology. 
In fact, most of the time I'm touting the benefits of using different apps and other technology to improve your productivity.
Technology works great — for some people.
You have heard me talk about the evils of multi-tasking before.  Reading e-mail on your phone can really cause severe multi-tasking if you are not careful.
I have been working with a coaching client for a number of months now and this is the conversation we had.  You see, I observed that his responses to e-mail were different when he was reading from his laptop compared to his phone. 
Here is what I observed (and maybe you struggle with the same thing)
Let's start with this thought: Effective / productive communication involves both the receiver of information understanding what is read and the writer being able to convey thoughts in a way that it can be understood.  Right? 
In my client's case his phone was hindering BOTH sides of that equation.
When Receiving Email on His Phone He Missed Important Points
When opening up an email with multiple action steps he would only reply to the first item being mentioned in the email.  Because he would miss other points, communication often got jumbled and someone would have to step in to help bring the project communication back in line.  On the other hand, when he responded to emails off of his laptop, everything that needed to be addressed was addressed.
Answers Coming From His Phone Were Often Incomplete or Lost Meaning
The age of texting and tweeting have made our normal form of communication different.  Abbreviations, incomplete sentences, etc. happen much more commonly than they used to.  We found that when he was responding from his phone, his communication was often difficult to understand.  Yet, when he replied from his laptop, there was never a misunderstanding.
So, Did He Agree?
He and I had a general conversation about project communication and he agreed that there had been some confusing moments in the past month or so.  I then shared my observation about using the phone vs not using the phone.
He acknowledged that often he was in between appointments — half thinking about what he was reading and half thinking about the last or next appointment — when he was reading and replying from his phone.  However, he used his laptop during his office hours when things were more quiet and he could concentrate.
The Solution – No More Reading/Replying On the Phone
While the phone was a really convenient tool to access e-mail, he agreed that ultimately his replies from the devise were taking more time because of the need to clean up miss-communication.  He has now decided that he will not use his phone for e-mail communication.  So far, he has gone 2 weeks and it is working out pretty good for him.
So, Was the Phone Really to Blame?
Not really.  Divided attention was to blame, but the phone was an "enabler" of sorts.  The smaller screen also made it difficult to see the entire content of an email, so scrolling could have caused challenges with the understanding of what was read.
Final Thoughts
If you use your phone for email communication, take a moment to evaluate its effectiveness.  If it really isn't working for you.  Stop using it.
Live Fully -- Love Openly -- Laugh Often -- Leverage Your Brilliance -- Connect Authentically -- Get Your Message Out -- Serve with Impact -- Prosper Everyday