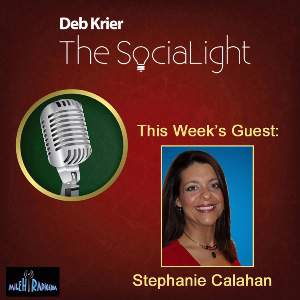 Deb Krier is the host of The SocialLight show on Mile Hi Radio where she interviews influencers, users, and developers of Social Media. We sat down and had a chat about:
Finding your passion and building a business that works for you
How to make sure you don't have to deal with difficult clients
Why referring a prospect to someone else may be a good choice for your business
Leveraging your visibility experiences – get the most out of what you are already doing
The power of your voice and what to do if you hate the sound of your own voice
How to get yourself ready to be a great guest
Preparation considerations before the host hits the record button
How to get traction from the time you have invested on a show
Media Type: Audio podcast
Length: 60 minutes
Listen Now!
Cost:  no cost, just click play!
Resource Mentioned on Show
Brain Wave ™ – 32 Advanced Binaural Brainwave Entrainment Programs with iTunes Music and Relaxing Ambiance by Banzai Labs is one of my favorite apps for concentration.
Plantronics MX500i 3-in-1 Headset – my headset mic
If you enjoyed the episode, I'd love your help spreading the word! Share it on your favorite social media site. Thanks!
Live Fully -- Love Openly -- Laugh Often -- Leverage Your Brilliance -- Connect Authentically -- Get Your Message Out -- Serve with Impact -- Prosper Everyday