I have received a number of invitations over the years to be on a variety of different types of shows, but back in October I received this message from Engel Jones:
"Hi Stephanie, I am the podcast host of Twelve Minute Convos. I have set a goal to create a Guinness World Record for the most podcast interviews in 3 months. I interview Champions and I would love to have you be part of this."
How could I say no to that?
His goal is to create short, but meaningful episodes that allowed the listener, and him, to gain more insight on each of us on a human-to-human level.
He not only had me hooked on quickly agreeing to come on his show, but I invited my friends to participate and listened and shared number of episodes too.
It was truly fascinating how much we were able to cover in 12 minutes and his audio editing has me bowing and grinning as I listened to how he enhanced my response to a question at minute 09:41.
Media Type: Audio
Length: 12 minutes
Listen Now!
Cost:  no cost, just click play!
In this episode:
00:00 Introduction
00:32 Welcome
00:50 Tell me, which of your talents is responsible for us meeting?
01:11 Tip to build great relationships
01:37 Who did you learn this skill/ability from?
02:27 Why will you continue to repeat this skill?
03:11 Share with me what you do in terms of being a business vision catalyst?
04:13 The value of forgiveness
05:17 What is the one thing you have done consistently over the past 3 years?
05:50 How does that make you feel?
05:57 Why would you suggest that someone do what you do?
07:52 What is your earliest childhood memory?
08:17 How old do you think you were?
08:21 Why do you think this memory is so clear?
09:25 The tie to success and showing up fully
09:41 What was your favorite song when you were 12 years old? (and you have to see what Engel did with the editing to really bring this question to life!)
10:30 Declaration Time – Yes or No or a bit more? Have you chosen someone to pass on your skills to?
10:36 Are you married?
10:47 Do you have children?
10:50 Do you believe in God?
10:52 Do you have an inner circle of friends?
11:01 Do you watch tv for more than 3 hours a day?
11:28 In closing, is there anything you would like to share with our Amazing Audience?
12:03 Closing
My Interviewer: Engel Jones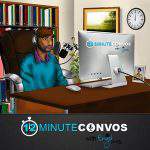 Engel Jones was born and raised in the twin island of Trinidad and Tobago and he loves great conversation. He is an Entrepreneur, Life Coach and the podcast host of the Twelve Minute Convo. His passion is to help you find Y.O.U.R.S – Your Own Unique Real Self. (Check out his site for a great downloadable guide that he created as a result of all of his interviews.)
He shares that he loves great conversations where life's journey is communicated not only through words, but tones and emotions. Explosive expressions that allow you to feel what they felt and learnt.
A fool learns only from his own mistake while the wise learn from their own and from those, others have made.
After having 1001 conversations in 3 months he uncovered Y.O.U.R.S, a tool used to reconnect you to the hidden passion and purpose which is essential to creating a brand of Y.O.U.R.S.
Back to you!
So what did you think? Did anything stick out to you from our conversation? I'd love to hear about it. Share in the comments or shoot me an email.
Live Fully -- Love Openly -- Laugh Often -- Leverage Your Brilliance -- Connect Authentically -- Get Your Message Out -- Serve with Impact -- Prosper Everyday