Your mistakes and your triumphs make you who you are.
Sometimes you are conscious of those connections and sometimes you're not.
That is what show host, Anthony Hayes, seeks to find out as he interviews his guests on the Me, Myself and I Radio Podcast.
Anthony and  I met in his awesome Facebook group for podcasters. It took us quite a while to get a recording scheduled for his show, but I was really glad when we did! Like all good show hosts, Anthony pulled things out of me that I don't think I've shared in the 100s of shows I've done. (Great job Anthony!)
Normally, he has a 20 minute or so show, but we had such a good time talking that we ended up with part one and part two.  You can find both below for your listening pleasure.
Media Type: podcast
Length: Part one: 16:42  Part two: 21:04
Listen Now! Me, Myself & I Radio
Part One
Listen to "Stephanie Calahan Business Vision Catalyst" on Spreaker.
Part Two
Listen to "Stephanie Calahan Business Vision Catalyst – Part 2" on Spreaker.
You'll Hear
Part One:
00:00 Introduction
02:45 What a Business Vision Catalyst is and why I choose that description for my work.
05:26 The types of work I do with my clients and how I help you become the best version of you.
07:50 Finding your authentic self.
08:55 The horrible/wonderful past that brought me to where I am now.
13:05 The important element I had missing that messed me up big time.
14:41 Then I was told that I would not see 2010 …
Part Two:
00:00 Introduction
01:46 Recovering perfectionist, recovering workaholic and what I had to change to find joy and success.
03:00 The power of listening to yourself and paying attention to your "inner knowing."
03:59 My crash and burn "flight" down the stairs (with my baby in my arms) and the results of the fall.
05:52 What happened when my body shut down and how I handled it.
07:33 Finding my personal solopreneur world changer.
08:08 Self-love and knowing how to exist.
09:24 Resources that helped me in the process.
11:54 How to fully understand your "YES!" and live in full authenticity.
14:56 Gratitude practices that work and are easy to put into place today.
17:36 Read more, laugh more, get out more and be more grateful. 🙂
Episode music: Show music introduction "Do It All For The Dream" (provided with permission to Anthony Hayes) from Lovestruck Robot by Jace Magee.
My Interviewer: Anthony Hayes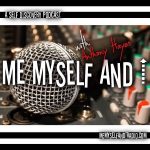 Anthony Hayes is an author and host of the Me Myself and I Radio Podcast. His focus is the message of triumph and victory and a deep dive into the discovery of self.
Episodes frequently cover topics on personal development, mental health, success habits, fear, failure, mindset, meditation, productivity, mindfulness, self-awareness, self-discovery and self-development. They are unscripted, real and oftentimes raw conversations.
The show is broken into three elements:
Me = Past – This is the person you've created based on past choices, failures and successes.
Myself = Present – The person everyone else has come to know.
I = Future – The part of us that will always go out striving to be something better, the "I" was meant for something more, the element that unknowingly sparks the same question in the eyes of another.
Back to you!
So what did you think? Did anything stick out to you from our conversation? I'd love to hear about it. Share in the comments or shoot me an email.
Want More 5-Star Clients, More Profit and More Freedom?
Fantastic! I'd love for you to have that too and it might not be as far off as you think.Connect with me to see how we might be able to blast your blocks and create a business built around you. We can quickly "de-stress" your business, leverage every ounce of your brilliance and systematize your success, so that you can work less, impact more people and enjoy freedom the way you define it in business and life.
Book your Profitable Freedom Breakthrough Strategy Session with me.  We'll chat about what you are doing now, some tweaks to make it better and how I might be able to support your business.
Live Fully -- Love Openly -- Laugh Often -- Leverage Your Brilliance -- Connect Authentically -- Get Your Message Out -- Serve with Impact -- Prosper Everyday