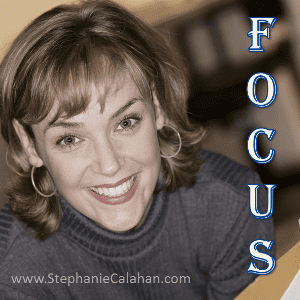 Do you get caught up in BSOs?  BSOs are "Bright Shiny Objects" — those things that easily catch your attention and steal your focus.  You spend time there, but you know that it's wrong to be spending your time on them.  They can be pretty and enticing, but they may not really be driving your business as much as they could to deserve your attention.  How do you make sure that what you are working on is the right thing?
Today 31 of my fabulous business expert community share their expertise.  I asked them the following question:
As a business owner, you have many things that you could spend your time on.  How do you make sure that you are using your time the most effectively?  How do you make sure that you don't get get "caught up" in the "Bright Shiny Objects" that could take your eyes off of your priorities?
There are a lot of great ideas in this post, but be careful to not let it overwhelm you.  I suggest that you:
Pick and choose the ideas that will be most useful to you. There are different concepts listed here — not every single one will be useful to every person. I hope you'll find 3 that are useful, or that are reminders of something you've been wanting to do.
Experiment! Try out different thoughts and see if they work for you.
None are guaranteed. But many are very likely to bring saved time and more visibility.
These thoughts are in the order they were received. Some of the best ideas for you may very well be at the bottom!
Share your ideas in the comments.  I'm sure that if you do, you will help someone else reading this post.
1. Ready, Set, Go!
I love to break up my tasks into chunks of time, usually in 15 minute chunks. I then set a timer and put my head down and work until the time runs out. Staying focused on one task without stopping allows me to get more done in less time. Turn off that internet, turn off that phone, close that door, put a do not disturb sign on your computer. Focus during those short bursts of time and get the tasks done and out the door!
Thanks to Melissa Schmalenberger of I Did It
2. Wear Blinders
If you have ever been to a horse race you will have seen that many of the horses wear blinders so they don't become distracted by other horses racing beside them or those that come up from behind. I wear virtual blinders to keep my eye on the prize – finishing my goal for the day. If by chance I am distracted by something I ask myself if the distraction is the best use of my time at that moment. Sometimes, I will 'give' myself the distraction when I am finished as a reward for staying on task!
Thanks to Diane Quintana
3. Schedule Time To Play Hooky
Aside from keeping visual reminders of your highest priorities in plain view, the best way to maintain laser-focus when it counts is to make sure you allow yourself enough time to "play a little hooky." Entrepreneurship can be high stress, leading to mental fatigue. But when you take time to rest mind, body & spirit, you are apt to operate at peak performance levels during your precious work hours. So if you find yourself easily distracted, take that as a signal to schedule some time off.
Thanks to Dr. Shannon Reece of Reece International LLC
4. Breathing
Pausing to take a few deep breaths connects you with the divine being that you really are. Then feel into the energy of the potential choices that lie before you. The one that feels the best to you is the one to choose. Do this each time a potential choice shows up. Once you become comfortable with trusting these good feelings, every choice you ever make will always be the best one because it's being chosen on a soul level. This will also make you authentic, which is what people are looking for.
Thanks to Paul Reinig of Mastering True Love
5. Beware Of Gurus!
A very frequent issue that I see is the willingness to adopt tactics and techniques recommended by experts who have made millions this way.
I'm not suggesting that these don't work – but they don't work for everyone, and they don't produce the same results for everyone. I've seen too many people burned and disappointed because they didn't stop to consider their target audiences and the personas and decision criteria of their specific buyers, rather than take the generic advice on offer.
Thanks to Philippa Gamse of Total \'Net Value, Inc.
6. Plan To Focus, Focus On Your Plan
If you have a great plan – exciting, motivating and authentic – then you can focus on your plan and not be distracted by every new fad, hyped-up opportunity, or shiny distraction. A great plan can allow you to make use of new opportunities that really do support your goals. A great plan makes it easier to ignore irrelevant stuff. And it only takes about 2% of your time to make and follow your plan – compare that to the time wasted with shiny distractions!
Thanks to Margaret Lukens of New Leaf + Company LLC
7. How I Tamed Of The Bright Shiny Object Syndrome
Below are my three strategies that I use to combat bright shiny object syndrome.
1. Deep breath – taking a deep breath will allow fresh oxygen to get to your brain. This will wake up your brain.
2. Look in the office closet – a look in my office closet will show me binders full of needless information.
3. Look in the mirror – when I look in the mirror I see the professional that I am. I know that I have attended conferences, invested in coaching and learned from the best in the industry.
Thanks to Jaynine Howard of Dream Catcher
8. Get Clear On Your Priorities And Stay The Course
As a business owner with a never-ending "to-do" list, it can definitely be a challenge to fight distractions. Because time is such a limited resource, you really have to focus on activities with the highest "pay off."
The first thing I do each day is to prioritize everything I want to accomplish. As the day goes on, I check in with myself to see how I'm progressing. It's also helpful to always ask, "Is what I'm working on right now the best use of my time at this moment?"
Thanks to Tiffany DeSilva of Order And Balance, LLC
9. Use A Timer
This may seem very trivial and old-school but, boy, does it work!
You don't need anything fancy, a simple timer from the Dollar Store will do. Set it for your desired length of time and keep focused on the task at hand until it rings.
Then I may take a small break, depending on how much work I have that day, and continue on to my next writing/editing project in the same manner.
The timer has been a lifesaver for me, I hope it's as helpful for you.
Thanks to Danielle Buffardi of PenPoint Editorial Services
10. Want To Stay Focused Over The Summer? Setup A Plan And Stick To Your Routine!
Plan out your summer months right from the start and sketch out your plans for June, July, and August. Include dates when you will be out of town or off work. Then take a look at the tasks that need to be completed during that time, breaking larger goals into small bite-sized steps. Routine is a cornerstone of efficiency, so try to maintain a regular daily and weekly routine. Remember regular admin time for completing routine tasks like filing, returning phone calls and follow-ups.
Thanks to Colleen Kranz
11. Maintain Attention With Intention!
Everyone is tempted by distractions, and sometimes there's no harm in straying from your plans. Its when distractions prevent us from achieving meaningful goals that things get problematic.
In this case, it pays to take on the habit of being *intentional*. Practically speaking, simply ask yourself "Is this the best use of my time and energy"?
This habit is key to helping me redirect and maintain my attention on what matters most.
Have a meaningful and productive day!
Thanks to Lauren Davidson of ARoundTuit Organizing & Productivity
12. FOCUSING DETERS YOU FROM BRIGHT SHINY OBJECTS
For me, the best way to avoid those "bright shiny objects" in business is to have a clear strategic plan for what I want to do to move my business forward. I ask myself whether this particular "object" will lead me in the direction I am wanting to go. If not, I do not even waste time checking into it. Staying focused helps me to stop wasting time and making sure that the time I do spend is beneficial towards my immediate goals.
Thanks to Audrey Cupo of A BETTER SPACE – Professional Residential Organizing
13. Turn Off The Alerts!
Shiny objects, distractions, alerts, beeps, pop-ups… the need to be in constant connection and not wanting to miss anything doomed me. My good friend technology was ready to help – alerting me to new messages, tweets, posts… but this hurt me in the long run. I have found if I disconnect and go off the grid for a few hours the first part of the day, I can check off top priority tasks on my to do list. I connect again later but have made a big dent. Make a list and focus on the list.
Thanks to Robin Bridson
14. Morning Coffee Plus Frog
There are tasks that attract us and others that have "avoid" written all over them. Unfortunately, it's usually the avoid-tasks that are more important. Do them first. Heed Mark Twain's advice: "If you have to swallow a frog, don't stare at it too long."
Additionally, apply the Pareto Principle: Determine which tasks have the biggest pay-offs and make them a priority.
Thanks to Marlene Caroselli of Center For Professional Development
15. Manage Time With Excel? Yup
I set goals for how I want to spend my day, and track with a simple Excel spreadsheet. For instance, I decided I wanted to spend two hours a day, five days a week on billable client work, an hour on my own work, an hour on exercise, etc.
I find that tracking it helps me stay on track. If on one day I only do an hour of billable, I might make it up over the next two or three days. Except that e-mail always takes more than the 2 hrs max I want.
Thanks to Shel Horowitz of GreenAndProfitable.com
16. Avoiding The Internet Pitch Fest
I avoid bright and shiny objects by keeping the main thing the main thing. We all know that the internet is a huge pitch fest. Everyone seems to have the best answer. Having been online for 14 years now, you get use to it and just ignore it.
I've streamlined my email to only receive messages on topics of interest concerning my niche, that way I don't have to see all the "bright lights" constantly flashing (smile), this way I remain focused and in control of my buying habits.
Thanks to Regina Baker
17. Overcoming BSO Syndrome
No matter how beautiful, intelligent or talented we are, we all get the same 24 hours a day. How we use that 24 hours is what differentiates top performers from their counterparts. If a task does not directly relate to your mission/vision, be willing to say "no". Just because you have an idea, & can do something doesn't mean you should. When you get an idea, write it down. Think about how the idea will move your business/life forward. Concentrate on moving 3 things a mile, not 100 things an inch
Thanks to Lisa Marie Platske of Upside Thinking
18. Drown Distractions In Decibels!
I like to use music to keep me focused. Some people need silence to concentrate, but I find that peppy, instrumental music drowns out all other distractions and I can focus longer and get more done. The music choice is important, too. Something with a little energy, and no words is best for me when writing or accounting. I think it's really important to find what works best for YOU, and stick to it! Noisy, silent, clean, cluttered, as long as it works that's all that matters.
Thanks to Tracy Magner of T.M. Organizing
19. A Few Methods For Multi-talented People
Most of my clients are entrepreneurs (who must all wear many hats) AND also have multiple creative talents ."Idea factories", they distract themselves with new ideas. A habit I have found useful:
Keep a "Someday/Maybe" file or notebook: I picked this up both from our blog's namesake Leonardo DaVinci but also from David Allen's "Getting Things Done". Having a place to "park" ideas that come up will help you resist the urge to follow them right now and destroy your focus.
Thanks to Lisa Rothstein of DaVinci Dilemma
20. Counteract The Brightness
All of my tasks are assigned time slots in my calendar, so when something new comes along it also has to have a timeslot. My calendar is usually pretty full, so I automatically have to prioritize if I have to bump another activity for the shiny object. So that I won't lose the new idea, I record all thoughts & ideas in Evernote. By collecting the shiny objects, I know that I won't lose them.
Thanks to Janice Russell, CPO-CD, COC
21. A Big 'Ol Sticky Note
Many times, as a business owner, I have one or two really critical things I have to get done in a day or week. These are the things I need to focus on and complete. I take a large Post-It, write that big task or two on it with a Sharpie, and slap it up on the window over my desk. It's right in front of me all the time, so if I am tempted by distractions…there it is. Big and bold, reminding me of my priorities. Low tech, sure. Effective? For me, yes!
Thanks to Liz Jenkins of A Fresh Space
22. First Things First
Get your top priority off your plate first thing in the morning. Have your three most important tasks prominent in your view to start the day. You are at your best early in the day, so jump in there and eat that frog early!
Thanks to Ellen Delap of Professional-Organizer.com
23. Reward Yourself!
When there's something I need to do but am dragging my feet, I reward myself for doing it. My favorite rewards: pedicures, massage, a nice meal out, and the two best words: dark chocolate.
Thanks to Janice Simon of The Clutter Princess
24. Ask Yourself Tough Questions
"Who's going to be responsible for this Bright Shiny Object (BSO) if I take it on?"
"How much time is this BSO going to absorb?"
"Does this BSO fit into my hierarchy of priorities?"
"Will it benefit my organization in the long run or create/strengthen partnerships?"
If I'm hesitant about any of the answers to these questions, then I try to find a way that I can delegate the BSO, postpone it, simplify it, or gracefully decline and walk away.
Thanks to Kelly Stettner
25. Tackle Your Three To Be Balanced, Or Five To Be Fierce
We write to-do lists again and again. I've found what you can get done each day: your "Top 3 = Balance" or "Five to be Fierce." What we need to encourage ourselves to do is focus on what counts, and let the rest go. You can only get 1-3 major issues addressed per day, and if you make it to 5 – congratulations!
But balance is important. Part of not being distracted is being refreshed. Ensure you have rest and outside activities so that you come in excited to tackle your three!
Thanks to Pamela Hawley of UniversalGiving
26. All Work And No Play…
All work and no play will burn you out and frankly, the more you try to avoid those Bright Shiny Objects the harder it is. Instead, set them aside and allow yourself a small amount of time each day to peruse the fun stuff. It isn't all waste; sometimes you can get good ideas and tips. Use your smart phone to check them out at the doctor's office or other waiting experience. Try categorizing – fun stuff, maybe useful, etc. Keep your nose to the grindstone, but look up now and then…just for fun.
Thanks to Bob Mason of RLM Planning And Leadership
27. The Future Opportunities Are So Bright, I Gotta Wear Shades
How to balance essential tasks of running a business with tantalizing opportunities (that can be both distracting and robust with potential)? I schedule interspersed blocks of Focused (blinders-on, ringers off) quiet time and Adventure time. In the focused blocks, I set an alarm to spend 45-minutes fulfilling prioritized promises (to clients, colleagues and myself). I never worry I will miss out on opportunities, knowing I have set aside Adventure blocks to explore the novel and shiny.
Thanks to Julie Bestry of Best Results Organizing
28. Move That Car!
When a stationary object distracts me (and they often do), I simply move it elsewhere. It could be glare on my calculator from the sun shining in, or a clock with the blinking dots. Either way, these little things become big annoyances. It has taken me several years to create the perfect office layout for me… that is, objects in places where they don't get hit by the sun, and a flat, yet washable paint.
Thanks to Pamela Hazelton
29. Embrace The Break
Oh yes, this is me! But I don't get all down on myself…I embrace it! Look on it as a brief interlude…which is super nice for those of us who are the "idea" people or who "see that big picture"…helps keep those brain spikes coming! Getting back on track is easy! I ask myself "what are the outcomes and how do they benefit the organization"? What is my goal? Planning a party is fun and "shiny"…but if it causes you more work and less benefit…store it away and move on.
Thanks to Diane Shepherd
30. How To Avoid ADD In The Information (overload) Age
There are days when I feel like I have ADD. There are 100s of emails, voice mail, text & social media "DMs" and of course there's the regular old snail mail. So, this is my tip to keep from feeling overwhelmed. Start a private blog and post all your info. It is an online journal! Go to blogger.com & set up a in 3 seconds & make it private. It's good if you have Virtual Assistants too (give them access). Post up messages, ideas, emails, other sites you run across..sync with your Gmail too!
Thanks to pam perry
31. Prioritize Your Passions By Using A Business Action Plan
I consider myself a multi-passionate entrepreneur as I love so many areas of business. In order to make sure that I am not getting off track and just following bright shiny objects, I maintain a Business Action Plan. I organize all of my business projects into categories, and then prioritize within those categories. I update the Action Plan on a daily basis, and use it as a living, breathing document to run my business. It allows me to be multi-passionate, but in an organized way!
Thanks to Lisa Montanaro of LM Organizing Solutions, LLC
Did you see a technique that was new to you?  Are there ideas that you have successfully done before?  What is your experience? What ideas are missing?  Share your comments below in the comments section.
Live Fully -- Love Openly -- Laugh Often -- Leverage Your Brilliance -- Connect Authentically -- Get Your Message Out -- Serve with Impact -- Prosper Everyday