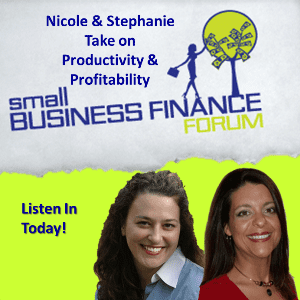 Does your day seem to disappear before your eyes? Critical tasks left undone? Desperate for a solution? Productivity and profitability do go hand in hand!
Tune in and join Nicole Fende and me to learn about profitable productivity and become a Finance Rock Star.
Hosted by Nicole Fende, author of the forthcoming book, "How to be a Finance Rock Star". Nicole is a credentialed actuary, experienced CFO, former Investment Banker and President of Small Business Finance Forum LLC.
Now, with credentials like that, you might think that Nicole is a "dry and boring numbers person." That could not be farther from the truth! She has a great way of approaching a topic that many business owners don't care to discuss (their money) and making it easy for you to digest and take action.
This time around, Nicole will be interviewing me.
This weekly show is perfect for small businesses, start-ups, entrepreneurs, solopreneurs and independent consultants.
Live Fully -- Love Openly -- Laugh Often -- Leverage Your Brilliance -- Connect Authentically -- Get Your Message Out -- Serve with Impact -- Prosper Everyday