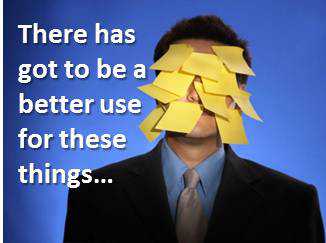 Creativity with post-it notes has been happening for quite a while.  In fact, the history of the 3M sticky note is that it is an adhesive experiment gone bad.  After Mr. Silver created the weak adhesive, it took him years to figure out how to use it, but today many of us glad that he did!
His creativity in inventing the first set of little yellow sticky pads has allowed us to use our creativity in amazing ways.  Some people have used the Post It papers to improve work processes while others have decorated their spaces and even community artwork using the stickies. 
Today, 19 of my experts share their favorite and most creative use of the office supply gems.
1. Big Note For Big Tasks
I like to use the 4 by 6 size notes in bright colors to remind me of my 3 Most Important Tasks for the day. I stick it on my calendar, in my car on the dash or on my mirror in the bathroom. I always have a way of keeping up with my most important tasks that day!

Thanks to Ellen Delap of Professional-Organizer.com
2. Quick Labels
Post-It Notes are my source for a make-shift label when I have no other labels handy. Cut off the non-sticky part of the note and use the remaining rectangle to write your label. It sticks on just like a regular label and can be quickly removed and replaced with a proper label when you get the chance.
Thanks to Suzanne Brown of Delightfully Organized
3. Ready…Set…ACTION!
When mapping out an outline for a screenplay or a story, I love using Post-its instead of the usual index cards. I can move scenes around on a large board or the wall, and use different colors for different characters or different kinds of scenes. If I use the small Post-Its I can even make my board portable — I use two open, facing pages of a notebook for a miniature board, and then I can just close it up and go to Starbucks, the library — anywhere I feel creative today.
Thanks to Lisa Rothstein of The DaVinci Dilemma (TM)
4. Conquer Paper Using Action Pad ™
In my Power Office! Workshop I introduce my custom-designed post-it pad to help people layer their decisions and easily activate their incoming and inactive paper piles. Attendees use my post-it Action Pad ™ to activate each paper by assigning a next action and a task owner, and estimating a time to complete it. People love using the pad to process decisions and check tasks off their list!
Thanks to Cena Block of Sane Spaces
5. Solo Brainstorming
Whenever I need to create a new training workshop or a new talk, I use Post-its to help me generate an outline. I just brainstorm ideas and thoughts, one per Post-it, and put them up on a wall. I generate as many as possible. I then move and rearrange the Post-its, putting them into different possible configurations until I have created a great outline.
Thanks to Peter Coombs of FRONTLINE Training & Consulting
6. Temporary Mind Map
I love to use sticky notes when I am brainstorming a new idea. I use them as a mind map. You write your ideas on the notes and then can move them around in whatever order you need too until you are ready to transfer the idea into a more formal format.
Thanks to Nikki Kinzer of Take Control Organizing
7. Next Chapters: Sorting It Out
When you have been through a big life change – whether you asked for it or not – it is difficult to sort out what your next chapter might look like. Often that is because there is a figurative veil covering reality for awhile (emotions). To organize for a next chapter, we use colored Post-it notes to sort out life. Each note has "what I know about…" spirituality, for example. Or "what I want …" is to bring creativity back into my life. Then we can arrange into "what is important now."
Thanks to Sue West of Space4U Organizing
8. Pile Pizzazz
I go through post its like most people go through toilet paper. I use them to label paper piles during small business, home office or residential file system creation. Post Its provide the flexibility to change file names as needed during the preliminary stages of any file system set up job. Using different color Post Its for different types of files also guides me in selecting the correct color file folders during the final stage of file system creation.
Thanks to Lisa Mark of The Time Butler Professional Organizers
9. Bookmark Your Page
Use post-its to selectively tag those pages in a book that you want to reference in the future. Distinguish between information that is solely for your own use and that which you want to share with clients, friends or colleagues by choosing one color post-it to designate each type of information. Place the post-its at the very top of the page allowing only a 1/4 inch to extend beyond the edge of the page so that the post-its do not get crumpled or detached from the page.
Thanks to Stephanie Shalofsky of The Organizing Zone
10. Be A Post-It Queen!
I love post-it notes. I have them in all colors and all sizes. I use them for so much more than just notes. My favorite tool is to use mini post-its to help create my marketing calendar for the year. One color is for classes, another for launch dates and still another for marketing and speaking. I attach them to a regular calendar and can easily move them around as needed.
Thanks to Katy Tafoya of Success For Solopreneurs
11. Goals
I use them to literally keep my eyes on my goals. Write your short and long term goals on a Post It note and put them on your bathroom mirror where you will be sure to see them every day. Talk about motivation!
Thanks to Jeff Mann of about.me/jeffreyjohnmann
12. Say It With A Post-It
On my birthday, my young teenage daughter, Sarah, would print 'Happy Birthday Dad' Post-It Notes and then put them all around the house and elsewhere to surprise me. Some of those places were inside the refrigerator, on the underside of the toilet seat cover, or, on the dashboard of the car.
Also, before I went on a business trip, she would write 'I love you' on Post-It Notes and sneak them into my luggage. It was a thrill to get 'em when I opened my suitcase in the
hotel room.
Thanks to Allen Klein of "Mr. Jollytologist"
13. Kiss And Tell
I keep a post-it notepad where I put on my make-up and after I apply my lipstick, I kiss the pad. I use the lightly kissed notes anywhere I want to leave a thank-you note for someone, send kudos for a job well done, or offer an encouraging word.
Women like to use the sticky notes on their husbands and children, or at the Office with a quick note, "Great idea, love it!" The kiss stamp on the note helps people feel appreciated and confident in their ideas.
Thanks to Kizmo Macoubrie of More Than a Wish
14. Become Your Goals, Design Your Life
I write out my monthly goals on sticky notes….even on different color post its!!!
I then place them on mirrors and create a frame…(I have lots of goals). They range from Financial, relationship, travel, daily, weekly, monthly, yearly goals. I create a frame so that my head fits in the middle of all of the goals. That way subconsciously I have immersed myself in what I'm about to accomplish. Plus every time I look in the mirror I re-focus on what it is I'm moving towards!!
Thanks to Mark Yuzuik of Hypnotist Mark Yuzuik
15. Stick It On The Handlebar
Write your shopping list on a Post It and stick it on the handlebar when shopping.
I also have a girlfriend who brainstorms with herself and sticks post it all over herself when out for a walk with the baby in a pram. Looks very funny.
Thanks to Susanne Thiebe of LessMess
16. A Low Tech Task Manager
Instead of a to-do list, write each task on a Post-It Note, and arrange them on a whiteboard by priority. They can easily be moved around as priorities shift, and removed when completed. They can even be color-coded by category. I haven't actually done this myself, but I read about it in Ann McGee-Cooper's "Time Management for Unmanageable People" and thought it was brilliant.
Thanks to Janet Barclay of Organized Assistant
17. Mind Maps, Timelines And The Great American Novel
Moving information on paper involves complex numbering systems or squiggly arrows obscuring every bit of white space; Cut/Copy/Paste led users to embrace computers. Post-Its provide Old School functionality, but let you see the big picture in a BIG way. Use a wall, window or mirror and colorful Post-Its to mind-map, plot out storylines and character development, or just plan all the steps leading to a big event. Rearrange on a whim. Snap a photo every so often to track your progress/history.
Thanks to Julie Bestry of Best Results Organizing
18. Post-It Flip Book
I have had to entertain bored kids with nothing more than the contents of my purse. I often carry Post-Its. There was a time when my youngest was done being patient in a waiting room. Knowing that he was really into flip books and there was not one nearby, I showed him how to make one. We began with a dot in the lower corner of the back page of Post-Its. With every sequential page we drew the dot slightly above the last dot's position. When he flipped the pages, the dot bounced.
Thanks to Juliette Wallen of www.JulietteWallen.com
19. Post-It Notes The Biggest "failure"
In 1970 a 3M employee named Spencer Silver was trying to make a super strong adhesive when he ended up with a very weak adhesive. But he kept it around anyway. Years later another employee, Author Fry, was looking for a way to keep markers in his hymnal. He coated the markers with the adhesive and… voila! Post-Its was born. I use this as an example when I teach inventors that you have to fail in order to succeed.
Thanks to Julie Austin of Create for Cash
So, what do you think? Are you going to try any of these ideas? Do you have an idea that is not mentioned here? Please share it in the comments.