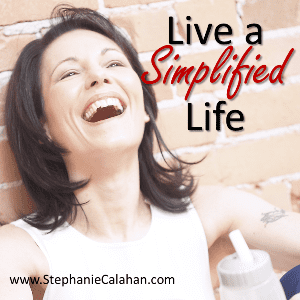 Is your life too complex? According to the National Association of Professional Organizers, 60% of Americans feel they do not have enough time to get everything done.
So why is that? Most likely it is because most Americans struggle with prioritization. Why didn't we say "time management?" Well, in reality, you cannot manage time. No matter what you do, there will always be 24 hours in a day and 7 days in a week. It is what you choose to DO with that time that makes the difference.
Today, I'll share a few tips to help you love the life you live.
Mind Your Priorities
If you know what is important to you, focus only on those things. If you're not sure about your priorities, find someone to help you figure it out. Often we do what is easiest to do, or the thing that someone is screaming about the loudest. Those things may not be (and often are not) the most important things to get done in a day. Priorities grow out of your vision and usually when you are behind on your goals, you have stopped focusing on your priorities.
Write them Out!
Goal setting is not just for the beginning of a year. Know what needs to be accomplished in your day and focus on that. Goal setting is the best form of time management and the first step is to write them on paper. This somehow seals them in your subconscious as do-able. If you have them in your head, they are no more than dreams.
Visualize
Before you start any project, first visualize what you want the end result to be. The author of 7 Habits for Highly Effective People, Stephen Covey, calls this "beginning with the end in mind." You may visualize a clutter-free family room with you and your family enjoying time together. Or, you may visualize an organized streamlined office where you do not have to hunt for anything and your day is stress free!
Get Rid of the Clutter!
Now that you know what is priority for your time, you probably have things that were on your to do list that don't fit priorities. Find ways to get those things off of your to do list.
What has worked for you to bring simplicity your life? Did you try some of the ideas you have read here? Let me know! Comment below.
Believing in you!