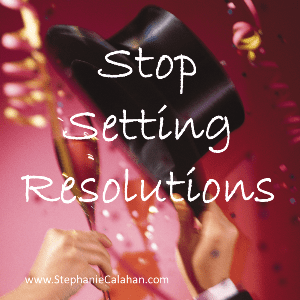 New Year's Eve has always been a time for looking back to the past, and more importantly, forward to the coming year. It's a time to reflect on the changes we want (or need) to make and resolve to follow through on those changes.
This year, do something a little different. Set inspired new year goals rather than resolutions. Oftentimes when we make new year's resolutions on December 31, they are forgotten by January 2! Inspired goals, on the other hand, if created correctly, are revisited and attained!
Set Limits
National success coach, Brian Buffini, once noted that Americans significantly underestimate what they can do in a year and drastically overestimate what they can do in a week. Be realistic about what you can accomplish. As you create your goals, do not set expectations that they would all be accomplished at the same time. Every person, regardless of intelligence, age or education can only process a few changes at a time (if the changes are to be lasting.) Define no more than 5 major goals for the year.
How to Create a Inspired Goal
Make your goals vibrant – living – hold real meaning and you will attain them! A vibrant goal will help you retain focus on what you are trying to achieve as well as what it will take to get you there.
When you write your goal, make sure that it is "SMART"
Specific – detailed enough to know exactly what to do.
Measurable – you will have a way to know you did or did not reach the goal.
Attainable – the goal is something that is reachable.
Realistic – can you really accomplish this task?
Time Limited – set a date
So, a not so "smart" goal would say something like, "Loose weight." A "smart" goal would say, "Loose 3 pounds a month for a total weight loss of 36 pounds this year."
Visualize
Work to imagine and then write out what it will look like when you succeed.
Know your "Why." Understand why you want to attain the goal and what benefit you will have once successful.
Know the Cost of Attainment. Understand the effort or cost to you in attaining the goal. What action steps will you need to take to accomplish your goal?
Know the Cost of Non-Attainment. What are the consequences if you do not make your goals? What will happen if you are not successful?
Write it Out!
Ok, I know, writing out your goals – yuck. I used to say that I would rather have a root canal than to spend time writing out my goals. After all, I know what they are right? However, I was knocked on my behind when I read that studies have shown that goals that are written down are way more likely to succeed than those that are just thought about or verbalized. So, I set out to prove them wrong! It ended up that was not the case. I was able to obtain 20% more of my goals when I wrote them down! It has worked for me, so check out to see if it will work for you!
What have you done to make sure that you reach your goals? Let me know! Comment below in the comment boxes.
To your success!