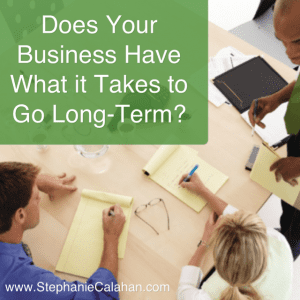 According to the Small Business Administration small businesses make up more than 99.7 percent of all employees. Add to that the latest figures that show small businesses create 75% of the net new jobs in our economy and you can see how important small businesses are.
Small Business Owners have a very challenging job. Many go into an industry because it matches their passion or is something that they are really good at. What many start up business owners do not realize is that it takes a LOT more than being good in a particular industry to successfully run a business.
Most of the time, small business owners need to wear many hats – visionary, product developer, marketer, bookkeeper, secretary, janitor and more! Overwhelm is easily around most corners! Below we provide some thoughts to help minimize that stress.
Today I'll share a few keys to ensuring your business thrives.
Develop a Team!
Even the most organized business owner needs help. That help can come in the form of employees or other outsourced help. You cannot be an expert in everything, and if you try; you will loose focus on why you started your business in the first place! Make sure that you have a team of knowledgeable people to help you run your business. It is worth the expense to have it done right the first time.
Write Your Processes Down
Small businesses can sometimes turn into BIG business. Did you know that Ford and Apple both started out as small home-based businesses? Make sure that you are ready for any growth that your company may experience. Review the processes and procedures that everyone in your organization performs and then write them down. By writing them down, you will be able to see any gaps or improvement areas that need to be addressed. Also, having written procedures and policies ensures consistency.
Take Care of Yourself
Burn out is easy to achieve when you run a small business. Make sure that you take time for yourself. The most successful business owners ensure that they take vacations and time off to "recharge."
Schedule the Strategic
Business owners often feel like they are fire fighters rather than business owners. While there is usually an adrenalin rush in solving the urgent issues, it is not a very effective way to run your business. Make sure that you have time scheduled in your week for strategic activities such as client relationship management, product development, future planning or marketing. Treat that time as a client commitment and do not allow other things to get scheduled on top of it. By taking the time weekly to plan, you will have fewer fires to put out and a well-oiled business.
Evaluate Where You Need to Get Organized
Occasionally take some time to review how you are spending your time and how you are using your space. Do you need to do an organization overhaul? Ask yourself the following questions:
How many hours a week am I working?
Am I spending the time I want on non-work related activities?
How do I feel at the end of the day?
Do I enjoy what I am doing?
How often am I interrupted at work?
What time does my work day end?
How do I tackle a new project?
How quickly can I find a filed document?
Is my in-basket overflowing?
How do I handle "fires" or urgent items that come up?
How do I plan my day?
Do I have an effective client relationship system?
Has disorganization caused me a client?
Be as honest as you can be with yourself as you ask the questions above.
You may be surprised with what you learn!
Know Web Resources to Help You Organize
We have compiled numerous web resources to help you get organized. Visit our links section and choose the business category to view even more links.
Biz Stats.com – BizStats.com publishes understandable business statistics and industry specific information in a format facilitating instant and effective analysis of business and industry profitability. National averages for U.S. businesses, including Corporations, Partnerships and Sole Proprietorships.
Bplans.com contains the largest single collection of free sample business plans online. In addition to that, it has helpful tools and know-how for managing your business. Bplans.com includes practical advice on planning, interactive tools, and a panel of experts who have answered more than 1,400 questions from people like you
Are you ready to get these systems into place in your business?  If so, let's talk!