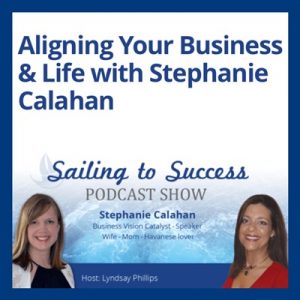 How aligned is your business to what you want out of life? Is your business a joy every day or a burden that you just "get through"? Lyndsay Phillips and I chatted on her Sailing to Success podcast about how to have a business that truly gives you what you want in life.
We discussed:
Aligning your health, goals and business for greater joy.
How to define your success.
What it means to live your truth.
Why "working hard" may not be the right choice for you.
How owning what you really want will help you reach success faster.
Mindset shifts that will help you get out and be seen by your ideal prospects.
What it means to be intentional with your day and an easy way to make that happen.
Media Type: audio
Length: 42 minutes
Listen Now!
Cost:  no cost, just click play!
Resource(s) I Mentioned
Increase Sales & Attract More Clients by Designing Who You Want to BE
My Interviewer: Lyndsay Phillips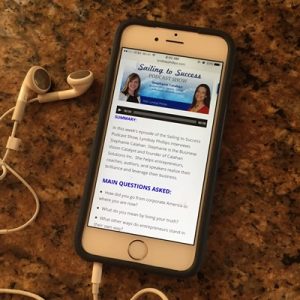 Lyndsay is a self confessed organizational freak and appointed task master, project ninja and warrior virtual assistant (VA) for life & business coaches, accountants, and other online entrepreneurs across North America. She has created a fantastic team that supports emerging entrepreneurs who are seeking fast paced business growth, but have finally come to the realization that they can't do it well when they are doing it on their own. The goal of the Sailing to Success podcast is to help entrepreneurs be more efficient, productive and profitable in their business. When you listen, you will learn more about leadership, management, online and social media marketing and overall great tips and strategies to grow your business.
If you enjoyed the episode, I'd love your help spreading the word! Share it on your favorite social media site. Thanks!
Live Fully -- Love Openly -- Laugh Often -- Leverage Your Brilliance -- Connect Authentically -- Get Your Message Out -- Serve with Impact -- Prosper Everyday