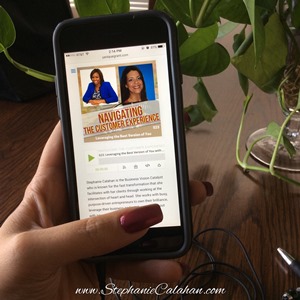 Great marketing helps you initially get clients/customers, but customer service is what keeps clients. Yanique Grant and I chatted about how focusing on the customer experience has helped my clients and me grow our businesses.
In this episode, Yanique asks me:
Tell us a little bit about yourself and your journey
How do you feel about customer service as a business owner on a global level and do you think there's room for improvement?
What are some everyday solutions that you believe can help improve customer experience?
How do you stay motivated everyday?
What are some important considerations for an entrepreneur or an online business owner would need to take into account in order to be successful?
What is one online resource, website, tool or app you cannot live without in your business?
What are some of the books that have had the biggest impact on you?
If you were sitting across the table from another business owner and they said to you that they feel they have great products and services but lack the consistently motivated human capital, what advice would you give that person to have a successful business?
What is one thing that is going on in your life right now that you are really excited about – something that you are either working on to develop yourself or your people?
What is one quote or saying that you live by or that inspires you in times of adversity?
Media Type:  Audio Podcast
Length: 30 minutes
Listen Now!
Cost:  no cost, just click play!
Resources I Mentioned
InfusionSoft is my one-stop business toolbox.  Send the right message a the right time, automatically.  Infusionsoft is the all-in-one sales and marketing software built just for small business. By integrating CRM (client relationship management), e-commerce, social media and email marketing into a single, powerful system, it helps you simplify marketing, grow sales, and save tons of time.  I use it to manage my affiliate program too.
Books:
Quote:
"It takes a lot of courage to release the familiar and seemingly secure, to embrace the new. But there is no real security in what is no longer meaningful. There is more security in the adventurous and exciting, for in movement there is life, and in change there is power." Alan Cohen
My Interviewer: Yanique Grant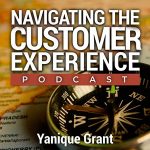 Join host Yanique Grant as she takes you on a journey with global entrepreneurs and subject matter experts that can help you to navigate your customer experience. Learn what customers really want and how businesses can understand the psychology of each customer or business that they engage with. We will be looking at technology, leadership, customer service charters and strategies, training and development, complaint management, service recovery and so much more! Navigating the Customer Experience!
If you enjoyed the episode, I'd love your help spreading the word! Share it on your favorite social media site. Thanks!
Live Fully -- Love Openly -- Laugh Often -- Leverage Your Brilliance -- Connect Authentically -- Get Your Message Out -- Serve with Impact -- Prosper Everyday