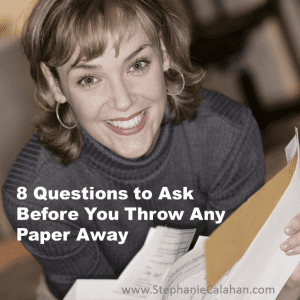 So, how many of you have experienced this:
You walk into your office and you say to yourself, "Today is the day!" You are excited and you say, "I am going to get this place organized and I'm not leaving until it is done!"
Then… you pick up the first piece of paper, look at it, say, "Hmm, well… I'll look at that later." and you put it down. You pick up the second piece of paper, look at it, say, "Oh geese!" and you put it down. The next thing you know, everything from the right side of your office has been moved to the left side of your office and you are tired and call it quits.
Paper can be overwhelming, but it does not have to be! I have worked with a number of people that think that they will never be able to get through their piles. Fortunately, it was not as horrible as they thought! They were able to get through their piles by changing the way that they looked at the piles.
Clutter is postponed decisions! So, why do we do that? Well, part of the reason is that when we pick up a piece of paper, we try to make too many decisions at once.
What is this?
Where does it go?
Do I have a file for this?
Where did I put the file tabs?
And the list goes on…
Then we default to – keep it.
Paper Control – Instead, consider asking the following 8 questions:
Does it require any action by me/us?
If an item requires action (a phone call to make, a report to write, an outfit that requires altering) then it is an "ACT." Keep everything that requires action in one location, so that when you have time, you will be able to go through and check the items off of the list!
Is it recent enough to be useful?
Is the address book that has not been updated in 3 years really current? Just like food has an expiration date so does the things in your life. If you are keeping things that are no longer current, you are not allowing yourself the space for new and better things to start.
Is it difficult to obtain again?
Birth certificates, legal documentation, marriage licenses, company incorporation papers, the list goes on and on. If there are items that are difficult to find or obtain again, you may want to consider keeping the item in a container designated for that type of item.
Are there tax or legal implications?
Have you talked to your council about the information you keep and how long you keep it? If not, you might want to consider doing so. Each industry has different documents that need to be retained as does residential paperwork.
Can I identify specific use?
Do you keep things because you might "need them someday?" That is fine if you #1, have the space to keep the items and #2 know what you are going to do with the item. If you are keeping something for the express purpose of keeping it, consider that item a little harder.
Is it beautiful, useful or loved?
Are you keeping something that you think is hideous because it was a gift to you from someone special? Don't. Only surround yourself with things that bring you joy. Most likely, the person that gave you the gift would not want you to keep it if they knew you did not like it.
Does it reflect the person I was or the person I am now?
Are you keeping things that were important to you in the past, but really do not have the same meaning anymore? Does your space reflect who you are or who you were? Get rid of things that no longer hold meaning for you.
What is the worst possible scenario if I toss this?
This one is one of my favorite questions! If you can ask yourself this question and find that you can live with the answer, then it can make it easier to let go.
Let me know how these questions work for you. Do you have questions that work for you that are not listed above? Tell me those too! Just comment below in the comment box.
Like this? You might like these too:
Did You Know Paper and Other Things in Your Office Hold Emotion? https://www.stephaniecalahan.com/did-you-know-paper-and-other-things-in-your-office-hold-emotion/
Tips to Go Almost Paperless https://www.stephaniecalahan.com/tips-to-go-almost-paperless/
Paper Piles – 3 Tricks to Eliminate the Avalanche https://www.stephaniecalahan.com/paper-piles-3-tricks-to-eliminate-the-avalanche/
Live Fully -- Love Openly -- Laugh Often -- Leverage Your Brilliance -- Connect Authentically -- Get Your Message Out -- Serve with Impact -- Prosper Everyday