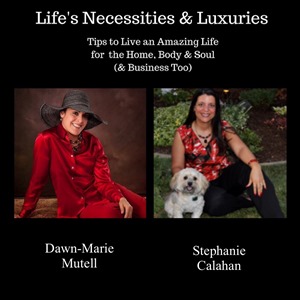 We all can live a life that is glorious! The Life's Necessities & Luxuries Radio show is about offering tips, tricks and interviews on how to live a very necessary and luxurious life. We talked about a number of things during our time together. In this interview you'll discover:
How to change your mindset from one of lack to one of abundance.
Approaches to creating a highly successful and meaningful business.
Top 4 pieces of marketing material to consider having for your business.
What to consider when creating your business around your full truth.
My love of quotes and how I use them to keep my mindset healthy and drive me forward.
(admittedly off topic) My myriad of food allergies and how I manage meal planning.
What the the difference between a "to do" list and a "to be" list and why you should care.
Where: Life's Necessities & Luxuries Radio
Host: Dawn-Marie Mutell
Media: Audio podcast
Length: 41 minutes
Listen Now!
Resource I mentioned in this interview: https://www.stephaniecalahan.com/be
If you enjoyed the episode, I'd love your help spreading the word!
Share it on your favorite social media site. Thanks!
Live Fully -- Love Openly -- Laugh Often -- Leverage Your Brilliance -- Connect Authentically -- Get Your Message Out -- Serve with Impact -- Prosper Everyday