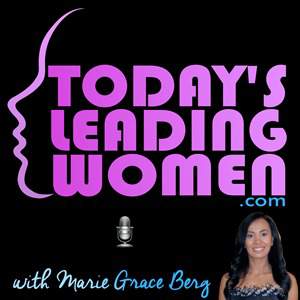 Today's Leading Women podcast is hosted by Marie Grace Berg and it focuses on listening to powerful women share the challenges and successes in their life and business. Marie and I talked about 3 of my top challenges and what I did to change course as well as my tips for work/life balance and tips for business.
Media Type: Audio podcast
Length: 40 minutes
Listen Now!
Cost:  no cost, just click play!
My Interviewer: Marie Grace Berg
TodaysLeadingWomen is a daily podcast for women entrepreneurs and female small business owners. Marie Grace Berg brings to life the stories and the journeys of successful women entrepreneurs. Their true stories are aimed at helping you understand how to turn that dream of owning and running a business into a reality. While these women can be described as extraordinary because they all seized an opportunity, and, with determination and commitment, turned it into a successful business, they are also just like us. They all had to battle with day to day challenges that face the rest of us – making sure we have enough money to survive, feeding our children and juggling the many different priorities in our lives. So WOMEN OF THE WORLD, join Marie Grace Berg as she takes you to what could be one of the most remarkable ride in your life!
If you enjoyed the episode, I'd love your help spreading the word! Share it on your favorite social media site. Thanks!
Live Fully -- Love Openly -- Laugh Often -- Leverage Your Brilliance -- Connect Authentically -- Get Your Message Out -- Serve with Impact -- Prosper Everyday