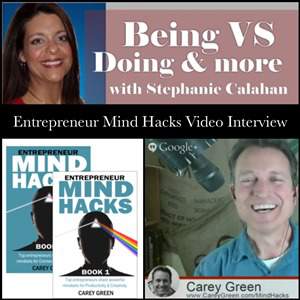 Do you set up your day for success or do you hop out of bed and let the day smack you in the face? Recently, Carey Green asked me to write a few chapters for his two new books (Entrepreneur Mind Hacks) and after reading one of the chapters he asked if we could hop on a hangout and talk about it. We discuss the difference between choosing who you are going to BE in your day vs what you choose to DO in your day. The BEing impacts the results you get in the DOing and that is why it is so critical. Check out the video for more.
Media Type: Video
Length: 31 minutes
Host: Carey Green
Watch Now!
Cost:  no cost, just click play!
Choosing BEing over Doing Workbook
If you'd like to dig deeper into how to apply this to your day, check out my free workbook and guide.
Entrepreneur Mind Hacks Books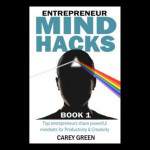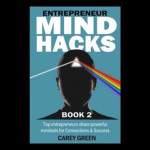 There are two books in the series and they are packed with some really awesome tips and strategies to help you grow your business. You can find out more about the Entrepreneur Mind Hacks books here.
If you enjoyed the episode, I'd love your help spreading the word! Share it on your favorite social media site. Thanks!
Live Fully -- Love Openly -- Laugh Often -- Leverage Your Brilliance -- Connect Authentically -- Get Your Message Out -- Serve with Impact -- Prosper Everyday